From SCDigest's On-Target e-Magazine
May 2, 2012
Global Logistics: Port Efficiency Must Keep Pace with Growth in Megaships, APM Executive Says

Containers will be Stuck in Ports for Extra Days Unless Productivity Significant Improves
SCDigest Editorial Staff
As "post Panamax" megaships come to dominate the container shipping landscape, it is essential that port and terminal operations take their own productivity to new levels.
That according to Soren Sjostrand Jakobsen, head of project implementation for APM terminals, during a speech to attendees at the Future Ports conference this week in Stockholm. APM, which operates some 65 container terminals worldwide, is a division of AP Moller-Maersk Group, which also owns Maersk Lines, the world's largest ocean carrier.
SCDigest Says:

Jakobsen says that that key metrics at the ports such as crane productivity have flatlined in recent years.

What Do You Say?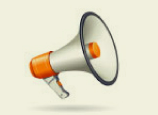 Despite some flattish trends lately, Jakobsen said he expects growth in world trade and container volumes to continue to expand sharply, well above overall world growth in GDP. Containerized global trade volumes reached about 530 million TEU in 2010, versus just 250 million TEU in 2000.
That growth in volumes obviously put pressure on world ports to handle them, especially considering each container is handled at least twice in being loaded onto and off of a ship, and sometimes more if there are any transfers along the way.
While container handling volumes dipped 9.1% in 2009 as a result of the recession, they grew again in 2010 by 14.8% in 2009, and are expected to increase by 50% between 2009 and 2015.
Jakobsen noted that some of this growth is coming increased containerization of goods such as grains that used to be moved in bulk ships, due to better handling efficiencies.
The carriers are largely addressing the volume challenges by rapidly moving to so-called megaships. As recently as 2006, the largest ocean ship could carry just 7100 TEU. When Maersk Lines begins operating its new Triple-E vessels in 2013, that figure will have jumped to 18,000 TEU. The two drivers are greater productivity of the larger ships (lower cost per container shipped) and the completion of the Panama Canal expansion project, which will enable much larger ships to pass through the Canal and significantly affect current shipping routes.
How the profile of the ocean shipping industry's collective fleet will change from 2010 to 2014 is shown in the graphic below.
Despite the continued growth in volumes, ocean carriers are not in a good financial place. Collectively, the industry lost $6-8 billion in 2011, depending on the source. While container shipping lines made $20 billion on 2010, 2009 was also a big loss year, and the industry is expected to again be strongly in the red again for 2012. In addition to these financial losses, returns on capital invested is also very poor at the carriers, in part because so many of them are bringing these megaships on line at the same time, causing capacity to grow even faster than demand.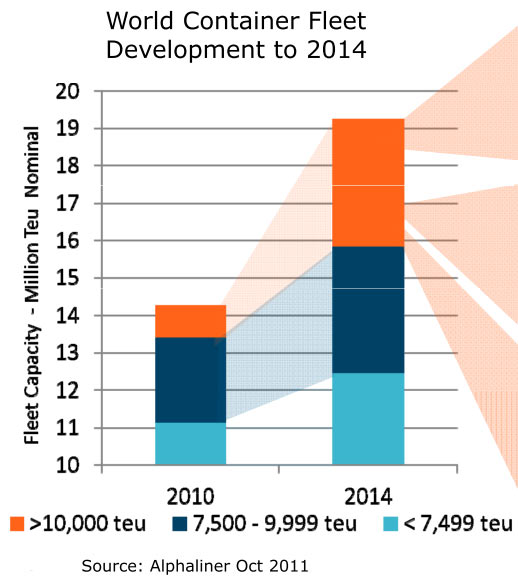 Jakobsen says that if world ports don't get their acts together this scenario will get even worse, often in ways that won't be any good for shippers or importers either.
"Our customers are building bigger and bigger ships and it is imperative that we are able to increase our delivered productivity at minimum the same pace as the ships grow — but preferably much more," Jakobsen was quoted as saying at the conference. ""Productivity will be the battleground for terminal operators, and those who are able to meet our customers' requirements will be the winners."
(Global Supply Chain Article Continued Below)