Once it is determined that automated sorting is justified, there are (3) critical subsystems that comprise a properly deployed automated sorting system: Induction, Sortation, and Aftersort Conveyor.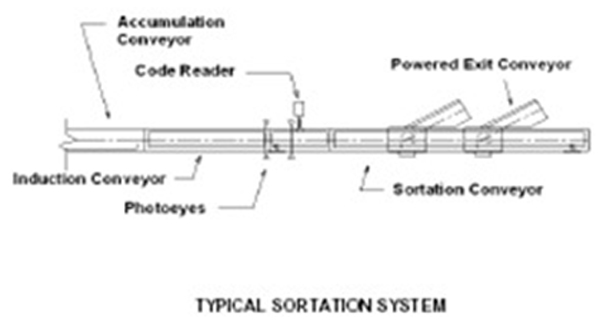 1. INDUCTION SUBSYSTEM
The Induction Subsystem receives cases of product from upstream processing lines, merges and combines the cases into a single line, establishes the proper space/gap between cases, and feeds the cases onto the sorter at the maximum machine rate (referred to as the Demonstrable Rate expressed in cases per minute CPM). The following chart lists principle functions of the induction subsystem:



2. SORTATION SUBSYSTEM
The Sortation Subsystem includes a broad range of technologies. The table below lists key characteristics for the types of sorters most often used: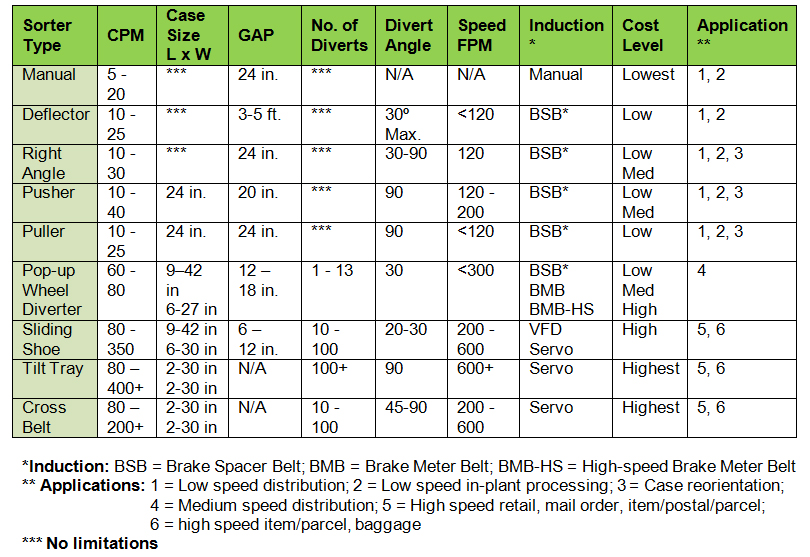 3. AFTERSORT SUBSYSTEM
The Aftersort Subsystem transports and stages/accumulates product from the sorter prior to packing, palletizing, or fluid loading onto shipping trailers. The following chart lists important considerations:

The above three subsystems are essential elements of the automated sorting system solution. Their proper design and application is critical to the performance of the overall material flow system. They should be located in an area within the facility that will not be considered for expansion anytime in the foreseeable future.
As an example: Locating the sorter over the shipping dock doors is definitely worth considering as this space is seldom used efficiently. In facilities that have a clear height of 25 feet or more, installing the induction and sortation subsystems on a floor supported mezzanine takes advantage of the buildings cubic space while creating unobstructed floor space underneath for staging, as well as the efficient movement of personnel and mobile equipment.
Of course, the software systems that integrate the sorting system into the DC's business processes and physical flow patterns are the "brains" that drive the automation and provide the highest level of overall system performance, flexibility and adaptability.