Just last month, the industry had to hit a requirement that 50% of such air cargo is screened. Most carriers and freight forwarders seemed to have reached the goal. But getting to the next 50% may be a lot more difficult, some say.
While some 85% of air cargo on planes leaving the US is screened, the Transportation Security Administration's Edward Kelly, general manager of air cargo, says he does not expect the 100% requirement for air cargo entering the US to be achieved by next year's deadline.
While most airlines and logistics providers say the deadline can be met, they are also saying it will be very difficult indeed to get there.
For example, while American Airlines is "very confident it's going to happen," according to Mark Najarian, vice president of cargo operations, the carrier will "have to do a lot of work to get to 100 percent. But the 100 percent-screening requirement is a requirement of the cargo industry."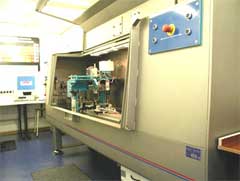 Meanwhile, in the face of some resistance, Rep. Edward Markey of Massachusetts, a big champion of the screening legislation, said he will "'vigorously oppose" any attempt to "water down" the mandate.
"To get to 100 percent is a pretty dramatic step and a very difficult one at the speed at which TSA is currently moving," countered Peter Kant, an executive vice president for Hawthorne, California-based OSI Systems Inc.'s Rapiscan unit, which makes aviation-inspection equipment.
Last week, Brandon Fried, executive director of the Airforwarders Association, testified on the topic before the House Committee on Homeland Security. Fried said the parcels and packages now being checked are "the low-hanging fruit" compared with the challenges of inspecting cargo transported on pallets on larger planes."
Although supportive of the efforts, Fried said there were a number of issues that needed to be addressed.
For example, international freight forwarders can participate in the voluntary Certified Cargo Screener Program, and do screening for shippers that will eliminate the need to re-screen it at the airport - if the cargo is accompanied by an electronic "seal."
However, the cost of the equipment to do the screening can run to as much as $500,000, simply beyond the financial resources of many smaller service providers. Some forwarders are also concerned they might invest now in equipment for screening that is later deemed to be unacceptable by the TSA.
Another concern is that the cost of the equipment will only be justified at the largest "gateway" cities. That means in other locations, "it will put enormous pressure on the airlines and airports to screen potentially as much as 40 percent of the cargo put on passenger planes in the US," Fried said. "Not only does this create a bottleneck that is extremely detrimental to our economy and ability to export goods, it also risks a new security concern due to the sheer amount of cargo awaiting inspection in airport cargo facilities."
Fried recommended a government subsidy for smaller and mid-sized forwarders to help pay for this expensive equipment.
He said that most airports do not have the real estate to screen all, or even 50 percent, of the total tonnage moving on passenger planes with existing resources, and that airlines do not have the financial or human resources to efficiently expedite screening all "just in time" cargo at the airport, such as medical supply and food.
These issues have the chance to significantly impact shippers and importers using both air and ocean freight; they need to stay on top of the developments.
What do you think of the 100% screening requirements for air and ocean shipments? Are there other less expensive and time consuming programs that could work just as well? Should the government subsidize scanning equipment for smaller operators or port facilities? Let us know your thoughts at the Feedback button below.