Continued Forecasting for Greater Levels of Outsourcing Fail to Materialize
There were some major differences across regions in the percent of logistics spend that is outsourced to 3PLs. In North America, respondents indicated that only about 47% of current logistics spend is through outsourcing, similar to the 49% level in Latin America; in Europe, however, that figure is a much higher 65%, and 62% in Asia.
Regardless of the region, companies expect the percent of spend that goes to logistics outsourcing will grow in 2010-2012. For example, North American respondents expect the outsourced percentage to rise from 47% of spend today to 55% over the next five years.
There's just one problem. Respondents to this survey have been predicting the same thing for many years, and the increases just haven't materialized. As shown in the figure below, spending on logistics outsourcing as a percent of total spend has remained basically flat for all regions, despite yearly projections for growth. Other research, however, has shown growth of the 3PL industry significantly exceeding that of overall economic growth, and faster than growth of overall logistics spend. That data implies the share of 3PL expenditures must be increasing.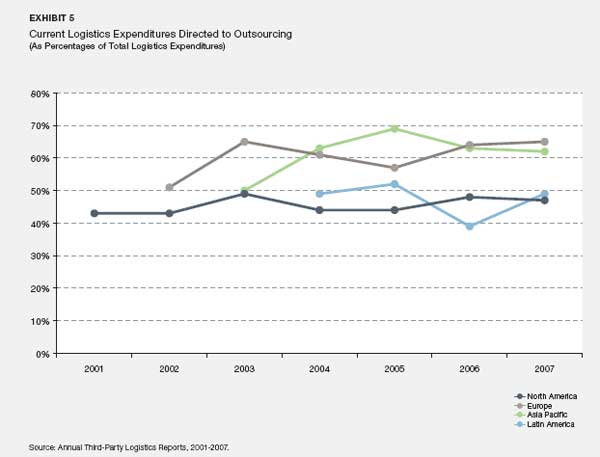 How to reconcile the two? SCDigest believes the evidence shows the percent of spending going to 3PLs is increasing, but not at the rate many companies predict for themselves, as it's never as easy as many believe to outsource a function or process.
Users Basically Happy, but Would Like to See IT Improvement from 3PLs
Respondents continue to rate their relationships with existing 3PLs as being successful, with percentage in the high 80% for North America, Europe and Asia; Latin America came in slightly lower but still strong, with 76% saying classifying their 3PL relationships as successful. In the general scope of other areas of business processing outsourcing, these are very strong satisfaction levels.
What is key to that success? The following factors were cited as most important:
Personal relationships on an operational level (71%)
Carefully drafted and signed contract with detailed descriptions of services and performance tracking (54%)
Clearly measured improvement in service levels to customers (52%)
Peer-to-peer relationships on executive level providing guidance and sponsorship (50%)
Clearly measured cost reductions (50%)
Despite some improvement in 2007, there is still a significant "expectation/performance gap" in the area of IT and technology support by 3PLs. Only 42% of survey respondents were satisfied with the technology capabilities of their 3PLs. While that was up 7 percentage points from 2006, it still represents a significant area of disappointment/opportunity, given it is well below overall satisfaction levels with 3PL relationships.
As the authors note, "Although overall the IT expectation/performance gap has shrunk, there is clearly no reason for complacency here: The majority of users are still dissatisfied. The picture is confirmed when we look at the continuing problems that 3PL users report with their 3PL providers: Insufficient IT capabilities are still a top three issue in the performance of 3PLs."
Not unexpectedly, the top problem with 3PL performance again this year was "Service Level Commitments Not Realized," cited by 46% of respondents as the top issue they faced.
In summary, the report notes company-3PL relationships must continue to evolve.
"It is important for both the 3PL and the customer to allow their long-term goals and objectives to develop and adapt. Research has shown high speed and low cost alone are not sufficiently beneficial to ensure supply-chain-based advantage," the authors say. "A more rewarding approach is to shift the relationship focus towards the key principles of agility, adaptability and alignment. By responding flexibly to any sudden changes in supply and demand, adapting to any evolution within the market and by aligning the goals and characteristics of the customer with the supply chain partners, benefits can and will be felt."
Are you surprised that such a strong percentage of companies classify their 3PL relationships as successful? Why do you think the projected increases in outsourcing never materialized? Do 3PLs need to improve a lot in IT sophistication? Let us know your thoughts at the Feedback button below.
Do you agree or disagree? Share your perspective by emailing us at feedback@scdigest.com