The report notes that "Discussions with users and providers of 3PL services reveal a disconnect between the desire to work collaboratively and how to go about it. In fact, it is apparent that the model most often followed does not usually work."
A fine place to start is defining what collaboration between a client and 3PL really is. The report offers this perspective: "Supply chain collaboration between a 3PL and a customer occurs when both organizations work toward a common set of goals and objectives, and when there is a meaningful exchange of information relating to planning, management, execution and performance measurement."
The report provides a valuable "maturity model" for collaborative 3PL relationships across the three dimensions of people, process and technology. That model is shown below. (For a larger image, click here.)
Maturity Model for Effective Customer-3PL Collaboration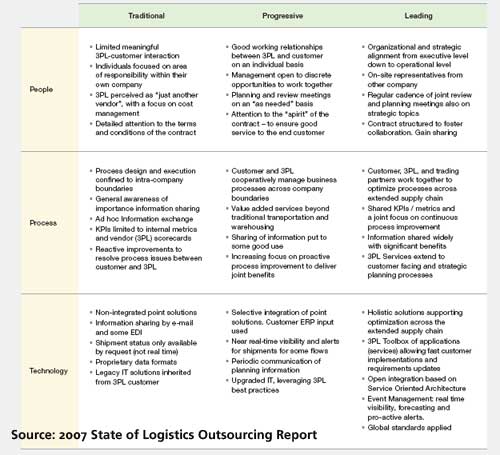 Does Collaboration Provide Value
The report cites the following potential benefits from improved collaboration with 3PLs:
A seamless, 360-degree view of the supply chain (an upstream view to suppliers, a downstream view to customers)
Access to and knowledge about the global marketplace by leveraging the 3PL's experience and relationships in other markets
Improved customer service – for example, a 3PL has opportunities to interact with end customers and create a positive experience during order entry and order fulfillment
Enhanced business processes
Improved capacity during peak seasons or promotions because the 3PL works more closely with its customer to understand forecasts and scheduled promotions and plans its own resources accordingly
Higher service levels at lower cost. This relates to the above point: better sharing of forecast information means the 3PL does not have to plan for worst-case scenarios
Improved new product introduction and management of new SKUs (product lifecycle management)
Reduced inventory and stockouts as a result of collaborative forecasting activities
Navigating governmental regulations – particularly relevant in China and where language and terminology issues may be a problem
The study said participants in these discussions in general believed the value of better collaboration was clearly there: "One net positive financial value of collaboration was to achieve a balanced cost reduction strategy for both 3PL and customer. Additional benefits were "incentives for innovation" and alignment of 3PL-customer key performance indicators with drivers of total economic value."
So how do you get there? The report identifies the following keys for companies and 3PLs:
Develop A Clear Understanding Of Each Others Goals And Objectives: The obvious starting point.
Building Trust and Commitment: Unfortunately, easier said then done.
Building Corporate Compatibility: Facilitating mechanisms include: meaningful alignment of individuals and processes; executive and operational champions on both sides; stable, professional work force, particularly on the 3PL side, and a willingness to fund it; and regular executive visits to customer sites.
Continual Focus on Communication: Too often, either the data is not shared at all or very little is done to meaningfully utilize what has been shared.
Move towards Shared Decision-Making: Ideas here include forming a management council, cultivating personal characteristics (such as listening, empathy and communications) and giving 3PLs the latitude to successfully perform the duties they have been hired to do.
Sharing the Rewards: Successful collaborations require that 3PLs and customers develop mechanisms to share gains, losses and investments.
Effective Measurement: 3PLs and customers need KPIs that show shared ownership and a commitment to objectives and to making process improvement a priority.
Strategic Planning: As part of the process of developing the plan, a checklist for successful collaboration should be developed jointly by the 3PL and the customer. Everyone involved should realize that a successful collaboration should last longer than the people who are involved in its formation.
The one point we would have liked to see addressed: How does collaboration really work when the result may mean less business for the 3PL? This is, in fact, a big barrier to more collaboration, and one that Toyota addressed two years ago in another CSCMP presentation. Its answer – truly long-term partnerships, in which the 3PL understands the benefits of giving something up now will be made up for over time by a company committed to stable relationships.
Can or should a company-3PL relationship be "Collaborative?" How does it best work? What would you add or change to the Maturity Model provided in the report? Let us know your thoughts at the Feedback button below.
Do you agree or disagree? Share your perspective by emailing us at feedback@scdigest.com