There are still a lot of choices for Transportation Management System (TMS) software out there, and each year the Trends in Transportation and Logistics study from Dr. Karl Manrodt of Georgia Southern and Dr. Mary Holcomb from the University of Tennessee provides a breakdown of what type of TMS companies are running, among many other data points of a survey that gets some 700 responses.
The data on TMS from the 2014 report, released as usual at the CSCMP Conference in San Antonio in September, is summarized in the graphic below.
Sources of TMS Software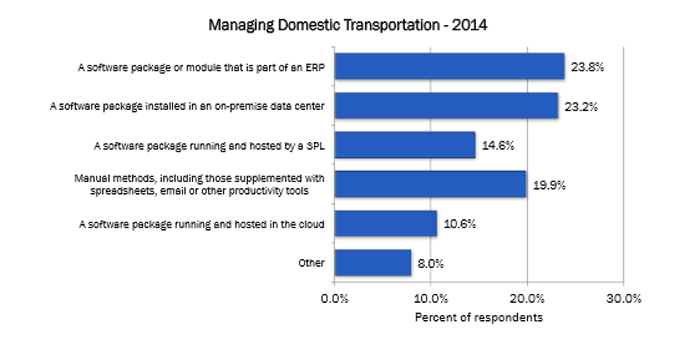 Source: Trends in Transportation and Logistics Study 2014
As can be seen, about 24% say they get their TMS from their ERP provider. Another 23% say they have an "on-premise" TMS, which we assume generally means best-of-breed software (non-ERP).
Another 15% or so use a TMS from their 3PL, while 20% are still using spreadsheets or other non-automated processes.
10.6% say they have TMS in the Cloud, which we assume means all "on-demand" sources, whether truly Cloud-based or not, and we also assume largely mean best-of-breed as well, though some ERP providers are now offering their Cloud TMS. But if our assumption is largely correct, that would put the total best-of-breed share at about 34%.
These numbers sound about right to us - it would be nice to see them segmented by size of company though. How many large companies are still using manual methods or very "lite" TMS technology?
Any Feedback on our Supply Chain Graphic of the Week? Let us know your thoughts at the Feedback section below.