Last week, SCDigest editor Dan Gilmore highlighted some of the findings from the sixth annual Gartner-SCDigest supply chain study. (See Insight from the 2013 Gartner Supply Chain Study.)
We included a few charts from that report in our summary, but wanted to add one more interesting one as our graphic of the week that depicts the "passion" survey respondents indicated their companies had relative to various specific supply chain initiatives.
To measure this, Gartner used a technique often used in consumer research that similarly measures an individual's passion relative to a given product or issue. Greatly simplifying, it involves subtracting the score for those seeing an item as a very low priority from those that rate that item as a very high priority. Scores nearer to the middle in terms of priority are thrown out.
The results of that approach in a supply chain context are shown below.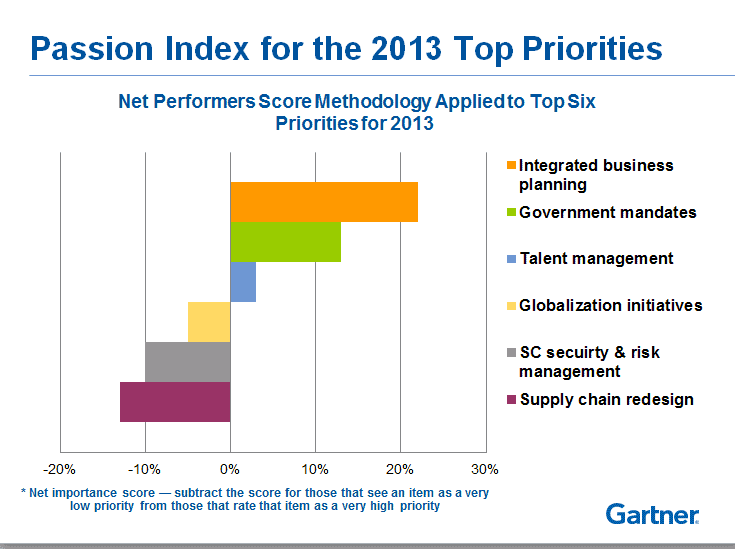 As can be seen, three initiatives (integrated business planning (S&OP), government mandates and compliance, and supply chain talent management scored very highly in terms of organizational passion.
Conversely, globalization, supply chain risk management, and supply chain network redesign showed low levels of such passion, meaning more had it as a very low priority than those that rated it very highly.

SCDigest surmises than perhaps many companies have already made major globalization progress, and thus it ranks lower in priority today than it might have ranked a decade ago.
This was the second chart in the report that indicated a relatively low priority for supply chain risk management, which as Gilmore said in his column is perplexing, as it seems a big focus area for many companies/executives based on anecdotal evidence and media reports. But nevertheless, several data points in the Gartner results indicate it is not that important to most companies compared to other supply chain initiatives.
Supply chain network redesign - often very beneficial, but a big undertaking indeed.
Any Feedback on our Supply Chain Graphic of the Week? Let us know your thoughts at the Feedback button below.