What is the role and importance of supply chain management in your organization? How aggressive are you in terms of adopting new supply chain management technologies?
We thought it was interesting to see the data below, from a presentation by Gartner based on the study it conducted last year in partnership with Supply Chain Digest. (To participate in this year's study - and receive a complimentary Supply Chain report from Gartner worth $300 - go here: 2009 Gartner/SCDigest Supply Chain Study. It will just take 10 minutes, and we appreciate your help.)
As can be seen, 17% identify SCM competence as the primary competitive differentiator in their markets. Who would that be, you say? A company in the food service business, for example, might rightly make that claim. Or a build-to-order machine shop. 58% say SCM is one of several sources of differentiation in their businesses, while 25% say supply chain is basically a commodity function for their companies.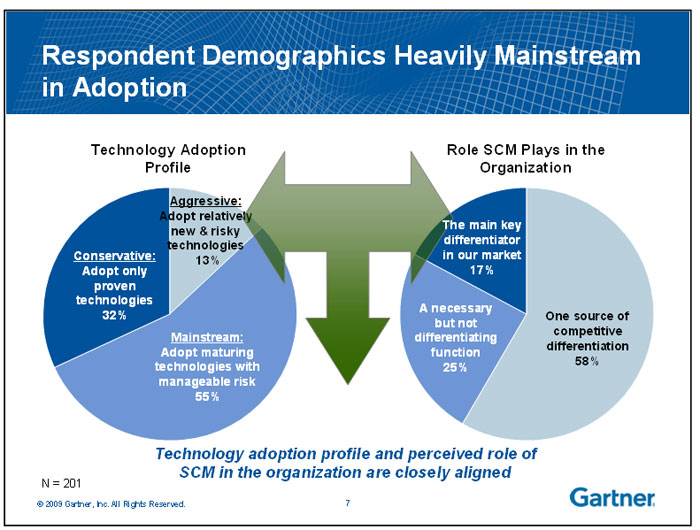 On the technology side, 13% of respondents say their companies are aggressive and willing to take risks with new supply chain technologies before they are well proven. 32% say they are very conservative and will only embrace highly proven technologies, while again, the majority (55%) were somewhere in the middle.
We think these numbers sound about right, but would be curious to learn your opinion.
How will the crazy year that has been 2009 change these and other perceptions? What will be the dominant supply chain strategies in 2010? Please take this year's survey and help us find out.
Agree or disagree? What is your perspective? Let us know your thoughts at the Feedback button below.