We received more than 50 submissions for our inaugural cartoon caption contest - most of them pretty darn good! We knew SCDigest readers could do it.
You will find our winning entry below, from Joel Wilmarth of Graybar. Congratulations! Sure made the crack SCDigest staff laugh. Below, we also publish what we felt were the next 10 best entries. As in several cases, there were very similar entries from different readers, especially around "green" and "lean," we went with the first one we received.
New cartoon next week! Have an idea for a cartoon? Send in your idea at the Feedback button below.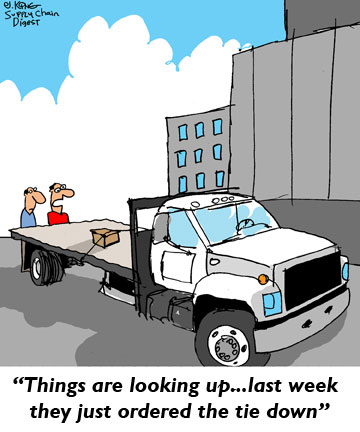 ---
Other good ones:
"You look busier when you make more trips."
Shawn Drager
Springs Window Fashions
---
"Well, at least we're meeting our inventory goals."
Kevin Kilmer
Pittsburgh Glass Works
---
"It's heavier than it looks."
Mark Fralick
ROI Solutions
---
"And that's not all….this order has 12 different drop-offs."
Tim Brown
SCJohnson
---
"This was the only backhaul I could find!"
David K. Schneider
David K Schneider & Company, LLC
---
"We probably SHOULD have added a few more shipping options to that Master Contract."
Dr. Lowell Yarusso
The Mpower Group, Inc.
---
"The purchasing department claims they followed the transportation department's inbound route guide."
Roland Swanson
Logistics Planning Services
---
"So this is one piece flow..."
Ron Hawkins
---
"I get the Lean but what about the Green!"
Mark Beard
LSI Corporation
---
"Now that we've unloaded the nanoparticles, you can finish the delivery of that big box."
James Loar
Ciba Inc.
---
Late entry that we liked and decided to add:
"And here we have a great example of a shipment that weighs out before it cubes out!"
James R. Stock
University of South Florida
Keep them coming for next week's contest!