We all know transportation volumes have collapsed since the start of the financial crisis in the fall of 2008.
Many know the freight recession actually started much earlier than that, beginning in 2007.
But is it possible that we have fallen in the US to freight volumes not seen since earlier than 1990?
That's the conclusion of the monthly Freight Index from Cass Information System, a provider of freight payment and other transportation services. We recently took a look at the index for the first time in awhile, and were very surprised by what we found.
The index looks at freight volumes and spend from a wide range of Cass clients, based on the actual freight bills Cass processes for them. Thus, the index is somewhat delayed from when the actual shipments take place, but should provide a highly accurate view of shipment and freight spend activity. Cass started the idex in 1990, which represents the base year, equal to a score of 1 or 100%.
As seen from the graphic below, the index has actually been under 1.0 since late 2008 and remained there for all of 2009 - meaning volumes in terms of shipments have been below 1990 levels.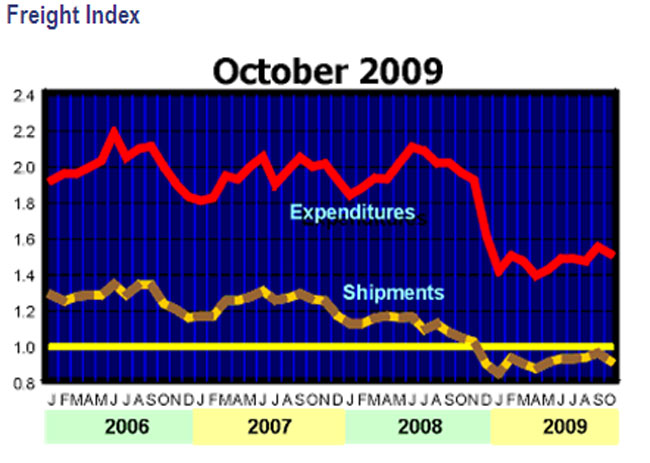 Source: Cass Information Systems
This is not necessarily consistent with other measures. The ATA freight tonnage index has found that volumes have dropped to about levels last seen in 2000.
What makes the Cass numbers especially astounding is that Gross Domestic Product in the US has risen about two-and-a-half times in that period, rising from about $5.8 trillion in 1990 to $14.4 trillion in 2008. Even with that growth, Cass says shipments are below 1990 levels, and transportation spend currently just 50% above 1990 (though, at its peak, the index says spending was more than double 1990 levels in 2006).
What is also interesting to observe is the dramatic drop in freight expenditures starting in mid-2008 and continuing through the early part of this year - a drop much steeper than the decline in shipments. While some of this is clearly related to the spike, and then dramatic drop, in fuel prices during that time, that can't possibly account for all of the delta in the difference between shipment volumes and freight spend - most has to be directly the result of dramatically falling rates.
Agree or disagree? What is your perspective? Let us know your thoughts at the Feedback button below.