There is a whole new world of automated case picking (ACP) coming - and distribution managers are eagerly waiting the developments.
SCDigest and sister web site Distribution Digest last week released a landmark report on the impressive developments in automation for case picking in distribution - a sort of "holy grail" for distribution center automation that many distribution managers have long hoped to see. The full report is available for download here: Automated Case Picking Report.
That report was based in part on surveys of over 200 logistics and distribution managers. While interest in ACP was strong overall, not surprisingly that interest was especially high in DC operations with heavy case pick volumes, as shown in the graphic below taken from the report.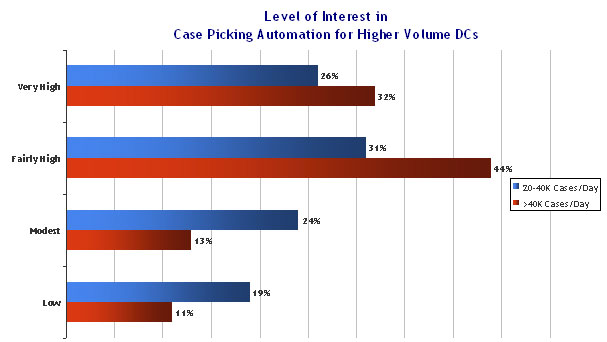 Source: Supply Chain Digest
As seen from the graphic, 76% of DCs with peak volumes over 40,000 cases per day had either a very high (32%) or fairly high (44%) interest in automated case picking solutions. For DCs handling 20,000 to 40,000 cases at peak, there was slightly less but still strong interest, with 57% in total having either very high (26%) or fairly high (31%) interest.
There really is a new generation of technology for case picking coming - keep it right here for details.
Agree or disagree? What is your perspective? Let us know your thoughts at the Feedback button below.