As we have reported previously, in the years 2004-2006, Wal-Mart let its inventory growth get out of hand. During those years, its inventory growth versus sales growth surged far ahead of traditional levels, rising to as high as 92% of sales growth in 2005.
That led to the Inventory DeLoad and other programs to reign inventories in.
As discussed in our latest version of Supply Chain Planning Insights, that led to success in more than one way. Not only did inventory levels go way down and "turns" go way up, the reductions in inventory versus sales growth at its US stores served to create a tremendous increase in free cash flow for the company. (See Inventory Management, Free Cash Flow, and Shareholder Value).
As shown in the graphic below, taken from our video, by keeping inventory growth to just about 12% of sales growth in 2007, Wal-Mart was able to improve cash flow 25%, well above its profit growth.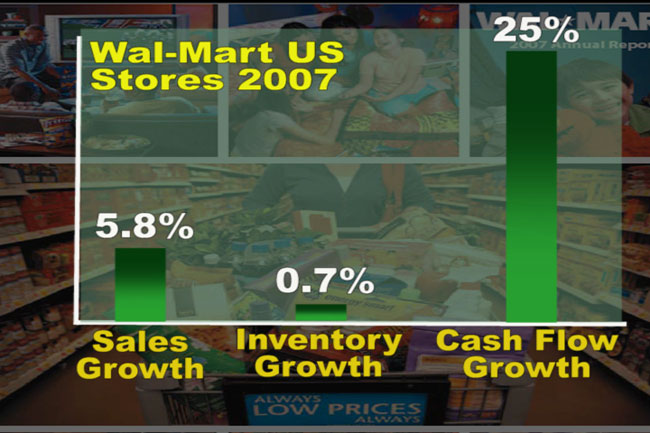 Sustainable reductions in inventory levels can give a strong boost to a company's share price - more so than most realize.
Agree or disagree? What is your perspective? Let us know your thoughts at the Feedback button below.