Category: Manufacturing
Major Shifts in Global Manufacturing Strategies Coming, Boston Consulting Group Says
Manufacturing Executives Aggressively Looking for China Alternatives, including the US
A variety of forces are "profoundly redrawing the map of global manufacturing for export."
That is one of the conclusions in a new report on the subject from Boston Consulting Group (BCG).
Supply Chain Digest Says...

One of the product categories with the biggest such change is machinery, for which US imports from China shrank by 28% from 2018 through 2022, but increased by 21% from Mexico, 61% from ASEAN, and 70% from India


---
What do you say?
Click here to send us your comments

Those forces include trade wars, the pandemic, natural disasters, severe supply bottlenecks, Brexit, the war in Ukraine, and increasingly assertive industrial policies, BCG say. In fact, more than 90% of North American manufacturing executives BCG surveyed for the report said that they have moved some of their production and sourcing to different countries over the past five years - and will continue to do so during the next five years. Of those 90% that made some moves, about half reported that they had shifted more than 20% of their manufacturing and supply chain spending.
That includes a clear trend towards moving at lead some production sourcing from China. The US will be the beneficiary of some of that migration, the report says, but other low cost countries such as Mexico, those in Southeast Asia, and India are benefitting as well, with many manufacturers also attracted to India's potentially enormous domestic market, the report notes.
BCG also cites Morocco and Turkey as countries gaining some manufacturing momentum.
Of course, finding lower cost sourcing drives most manufacturing strategies, but the research also found there is a strong desire by executives to shorten lead times, operate in more stable business environments, and gain flexibility to respond to disruption, even at the cost of almost three points of operating margin on average.
But gaining the cost reduction or other benefits apparently isn't easy. The survey found that only 55% of North American executives said that their production moves had met their objectives.
Why?
BCG says its analysis suggests that these disappointing results were generally due either to one-off decision-making or to inadequate consideration of non-cost factors that add complexity and increase the need to carry costly inventory. These factors include business environment, labor availability, and quality of logistics infrastructure.
High inflation for labor costs complicate decisions, and the report notes that capturing the true differences in nations' labor costs involves considering not just wage rates but also the productivity of factory workers.
(See More Below)


Wage inflation has been exceeding productivity gains in most regions. BCG says labor costs adjusted for productivity rose by 21% in the US from 2018 through 2022, for example, and by 24% in China. Similarly, productivity-adjusted labor costs rose by 22% in Mexico and by 18% in India over the same period.
Sourcing Strategy Changes Show Up in the Numbers
US goods imports from China declined by 10% from 2018 through 2022 in inflation-adjusted terms, while they rose by 18% from Mexico, 44% from India, and 65% from the ten countries of the Association of Southeast Asian Nations.
One of the product categories with the biggest such change is machinery, for which US imports from China shrank by 28% from 2018 through 2022, but increased by 21% from Mexico, 61% from ASEAN, and 70% from India (each from much lower base levels).
Of course, each country considered for sourcing has its own unique dynamics. The chart below from the report compares delivery times to the US and landed costs across a number of countries, including the US, along with some interesting if brief comments on each of the included nations.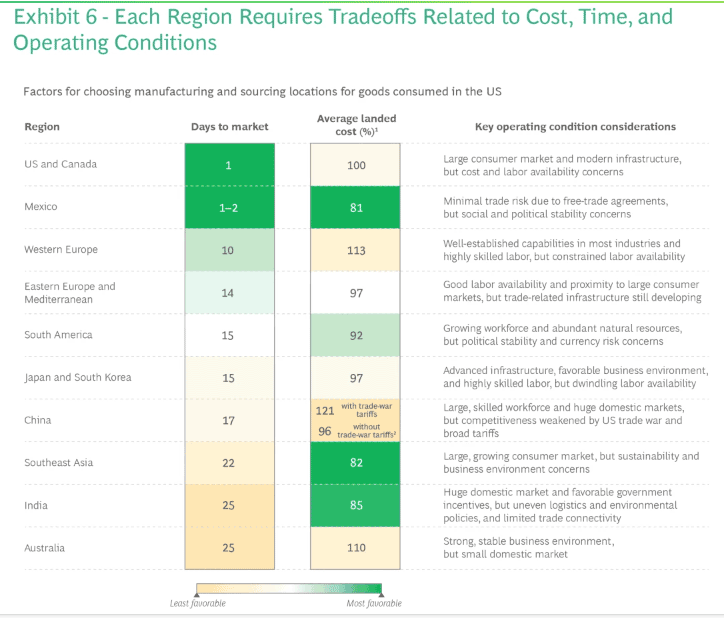 There is a lot more data and insight in the full report, available here: Harnessing the Tectonic Shifts in Global Manufacturing
Any thoughts on this new Amazon program? Let us know your thoughts at the Feedback section below.

Features

Resources

Follow Us

Supply Chain Digest news is available via RSS

Newsletter

Subscribe to our insightful weekly newsletter. Get immediate access to premium contents. Its's easy and free
Enter your email below to subscribe:
Join the thousands of supply chain, logistics, technology and marketing professionals who rely on Supply Chain Digest for the best in insight, news, tools, opinion, education and solution.
h e