Category: RFID, Automated Data Collection, and Internet of Things
RFID, AIDC, and IoT News Round Up for Sept. 19, 2023


Zara Planning to Replace EAS with RFID; Avery Dennison announces New Green RFID Tags and Inlays; Williot Adds Humidity Sensing to Platform

Here are a few of the top stories on RFID, barcode data collection, and supply chain IoT over the past couple of weeks.
Zara Working to Replace Large EAS Tags with RFID
Shoplifting remains a major problem in the US and around the world, with estimates from the National Retail Federation (NRF) that thievery cost US retailers alone an estimated $66 billion in 2021.
Supply Chain Digest Says...

"The new technology has run into teething issues," Bloomberg says, noting that "Staff in several countries have raised concerns to management that the technology may actually make theft easier."

---
What do you say?
Click here to send us your comments

Click here to see reader feedback
For decades retailers, especially in the apparel sector, have used what are called Electronic Article Surveillance (EAS) systems, involving large, plastic form factors that are placed on the merchandise and must be removed in a somewhat cumbersome process by store associatTes at checkout, else a modest alarm is set off if a customer tried to leave the store with the EAS tag still on.
There has been talk for years, including from standards organization GS1, that RFID offered a strong alternative to EAS, allowing inventory to be tracked more automatically in-store than with barcodes and then used like an EAS system to prevent theft.
Rather than starting an alarm from a shoplifter trying to leave the store with the EAS device still attached, RFID based system use reading of the unique item ID number on the electronic tag to see whether a given item has been sold or not.
If a consumer tries to leave the store by walking through an RFID portal reader system at the door, the system checks whether each item the consumer has or did not go through point of sale. If not, a similar alarm is triggered as with EAS.
A recent article on Bloomberg.com says leading fashion retailer Zara is in the process of making the switch from EAS to RFID and learning some lessons along the way.
"The new technology has run into teething issues," Bloomberg says, noting that "Staff in several countries have raised concerns to management that the technology may actually make theft easier."
However, a spokesperson for Inditex, the parent of Zara, responded that "The in-store implementation process of the new soft-alarm system, which uses several technologies, is going according to plan, without any significant incidents."
That said, Zara says the new system hasn't resulted in any measurable change in garment shrinkage yet.
Zara's new RFID security system is supposed to reduce theft by 60%, according to a report by Bank of America that cited a company called Associated Security.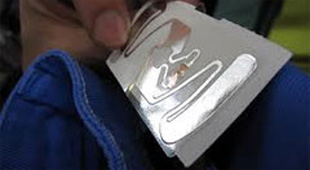 A key question is whether to embed the RFID tag in a label attached to the item, or actually inside the garment itself. Zara has now standardized on in-garment tagging.
Avery Dennison Releasing New Line of more Eco-Friendly RFID Tags
RFID tag and label maker Avery Dennison recently announced its new AD Pure range, a portfolio of inlays and tags which are entirely PET plastic-free.
(See More Below)


Through advances in antenna manufacturing, the AD Pure range has a 70-90% lower carbon footprint compared to inlays and tags using traditional etched antennas, Avery Dennison says in a press release.
The company adds that removing plastic can reduce the weight of a label format by up to 44%, meaning a reduction of raw materials and waste. Avery Dennison further says that AD Pure inlays and tags are recyclable as paper and cardboard items.
"The new AD Pure product line is an important step towards our goal to further reduce plastic across our fiber-based inlays," said Mathieu De Backer, VP innovation & sustainability, Avery Dennison Smartrac.
Williot adds Humidity Tracking to Iot Visibility Platform
A company named Williot announced this week it has added humidity-sensing capabilities to the company's Visibility Platform, to go with existing temperature, location, and carbon emissions sensing technology.
The company says that its Wiliot Visibility Platform connects the digital and physical worlds through the Wiliot Cloud and Wiliot IoT Pixels, which are low-cost, self-powered, mass-manufactured postage stamp-sized IoT devices affixed to products and packaging.
With this latest launch, Wiliot has added to IoT Pixels a tiny membrane that detects humidity in the air. When an IoT Pixel is exposed to different humidity levels, the information is relayed wirelessly to the Wiliot Cloud, where it can be combined with temperature and location data to generate insights and timely alerts.
"Products, from produce to pharmaceuticals, have different humidity handling requirements," the Willot press release says, adding that "The Wiliot Visibility Platform helps ensure compliance from producer to distributor to retailer to pharmacy, delivering significant benefits for companies and consumers."
Any reaction to this week's RFID and bacode news? Let us know your thoughts at the Feedback button below.
Features

Resources

Follow Us

Supply Chain Digest news is available via RSS

Newsletter

Subscribe to our insightful weekly newsletter. Get immediate access to premium contents. Its's easy and free
Enter your email below to subscribe:
Join the thousands of supply chain, logistics, technology and marketing professionals who rely on Supply Chain Digest for the best in insight, news, tools, opinion, education and solution.