Category: RFID, Automated Data Collection, and Internet of Things
RFID, AIDC, and IoT News Round Up for March 7, 2023


New Technology Turns Smart Phones into RFID Readers; UPS to Expand use of RFID across Full Parcel Network; GSI with New 2D Bar Code with Embedded Links

| | |
| --- | --- |
| March 7, 2023 | SCDigest Editorial Staff |
| | |
Here are a few of the top stories on RFID, bar code data collection, and supply chain IoT over the past couple of weeks.
New Technology Turns Smart Phones into RFID Readers
New technology from engineers at the University of California San Diego can enable smart phones to become RFID readers

Supply Chain Digest Says...

Each new QR code will include GS1 barcodes within their web addresses that link to a range of sources providing SKU-specific content.

---
What do you say?
Click here to send us your comments

Click here to see reader feedback
According to the ScienceDaily.com web site, the technology combines a RFID chip integrated into product packaging and a software update of most cell phones. A phone becomes capable of reading data based on signals the chip produces across specific frequencies, meaning Bluetooth or WiFi.
In an industrial setting, a smartphone equipped with the software update could be used as an RFID reader.
Getting technical, the innovation is based on breakthroughs in backscatter communication, which uses signals already generated by a smartphone and re-directs them back in a format a phone can understand.
Effectively, ScienceDaily says, this technique uses 1000 times less power than current technology to generate WiFi signals These advances have enabled very low-power communication between components of the Internet of Things and hardware such as WiFi or Bluetooth transceivers, for applications such as on-body sensors or asset trackers.
The custom chip, which is roughly the size of a grain of sand and costs only a few pennies to manufacture, needs so little power that it can be entirely powered by LTE signals, a technique called RF energy harvesting. The chip turns Bluetooth transmissions into WiFi signals, which can in turn be detected by a smart phone with that specific software update.
The technology's broader promise is the development of devices that do not need batteries because they can harvest power from LTE signals instead. This in turn would lead to devices that are significantly less expensive, last longer, up to several decades, said Dinesh Bharadia, a professor in the UC San Diego Department of Electrical and Computer Engineering and one of the paper's senior authors.
UPS to Expand use of RFID across Full Parcel Network
As part of its recent earnings call, UPS said plans to deploy its smart package initiative across the rest of its US delivery network this year after its initial success at select facilities in 2022, according CEO Carol Tomé.
The program involves placing RFID tags on parcels and wearable devices on employees to eliminate manual scans, reduce misloads and speed movement in the delivery giant's sorting hubs.

(See More Below)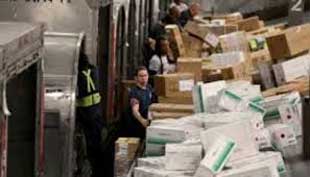 About 100 UPS facilities are currently using the RFID system. UPS said it plans to invest $140 million in the initiative in 2023 as it implements the technology at its 940 remaining US buildings, Tomé added.
CFO Brian Newman said UPS expects to reduce the rate of misloading parcels on to the wrong truck from one in 400 to one in 800 and perhaps even better than that. Misloads are now just one in 1,000 at 50 of the buildings using the RFID system.
When the program was first announced, UPS said that the use of RFID tags and wearable reader would eliminate 20 million manual scans daily for the employees loading parcels on to trucks.
GSI with New 2D Bar Code with Embedded Links
GS1 is set to launch its latest bar code technology standard across its 59,000 members, enabling brands to initiate their own QR codes.
Now rolling the technology out, the international organization claims the move will "revolutionize" retail."
Each new QR code will include GS1 barcodes within their web addresses that link to a range of sources providing SKU-specific content.
Many current QR codes are limited to just one use such as on-pack promotion. However GS1's new technology will allow brands to add nutritional, recyling or health information, as well as government required information.

"We've got 59,000 members, most of those within the retail space, from multinational and SMEs. We know their priorities are sustainability, driving revenues, digital transformation and consumer engagement," GS1 UK head of retail, Kerry Morrison told a trade publication.
"The sort of QR code campaigns that have gone before are very limited in their function and quickly become out of date.
"By adding the GS1 barcode into to the web address, brands can ensure consumers are instantly connected to key digital content that relates to that specific product plus whatever else the manufacturer would like to share."

Any reaction to this week's RFID and bar code news? Let us know your thoughts at the Feedback button below.
Features

Resources

Follow Us

Supply Chain Digest news is available via RSS

Newsletter

Subscribe to our insightful weekly newsletter. Get immediate access to premium contents. Its's easy and free
Enter your email below to subscribe:
Join the thousands of supply chain, logistics, technology and marketing professionals who rely on Supply Chain Digest for the best in insight, news, tools, opinion, education and solution.