Category: Transportation and Logistics
Supply Chain News: New ATRI Report looks at Infrastructure Challenges of Battery Cars and Trucks


As Consumers and Carriers move Down BEV Path, will Key Infrastucture be Ready?

There is certainly a lot of interest by carriers and private fleets in battery powered electric trucks, interest no doubt heightened by the recent launch of the Telsa Semi, three years later than initially promised when Tesla CEO Elon Musk first announce the program in 2017. (See Supply Chain News: Tesla Semi Finally Hits the Road.)
Surpply Chain Digest Says...

The report also notes that with only 313,000 total truck parking spaces in the US, each charger would have to support at least five charging events per day, adding that "such efficient scheduling of chargers appears to be impossible."


---
What do you say?
Click here to send us your comments

Click here to see reader feedback
But given the high interest, a key question remains: will the US have the infrastructure in terms ofnot only charging stations but even basic electricity production to support widespread deployment of battery electric vehicles (BEV)?
An interesting new study by the analysts at the American Transportation Research Institute (ATRI) looked at these questions and more."
The headline news: The study found that full electrification of the US vehicle fleet would require a large percentage of the country's present electricity generation. Domestic long-haul trucking would use more than 10% of the electricity generated in the country today – while an all-electric US vehicle fleet would use more than 40%. Some individual states would need to generate as much as 60% more electricity than is presently produced – at a time when the US electric grid is clearly already strained.
Let's look at some other highlights of the ATRI report.
Early on, ATRI notes the topic of electrification of cars and trucks is not a simple one. For example, while electricity has lower CO2 emissions during trucking operations than diesel or gasoline, electric vehicles require large lithium-ion batteries; the production of these batteries has a much higher carbon footprint than does production of a traditional internal combustion engine.
The report also notes the number of electric passenger cars in the US is slightly more than 1.5 million – which is still less than 1% of all the 276 million registered US vehicles (cars and trucks).
But it is a much lower percentage for freight trucks. The report says that as of the beginning of 2022 there were fewer than 1,500s BEV in the medium- and heavy-duty vehicle (MHDV) classification operating in the US, out of 2.925 million total.
On the issue of electricity generation capacity, the report notes that for a variety reasons, US electricity consumption from all sources have remained flat since 2000. However, "A shift to electrification in surface transportation, however, would likely cause consumption growth dramatically."
In addition to the data on the impact of BEVs on current electricity production capacity, the report also notes that for consumer cars and light trucks alone, full electrification would require 1,039.9 billion annual kWh, representing 26.3% of all electricity consumed in the US in 2019.

(See More Below)


Turning to freight trucks of all sorts, the chart below from the report shows the number of trucks of various types, and the amount of electricity each would require annually. In total, that is 555.3 billion kWh, representing 14.0% of all electricity consumed in the US in 2019.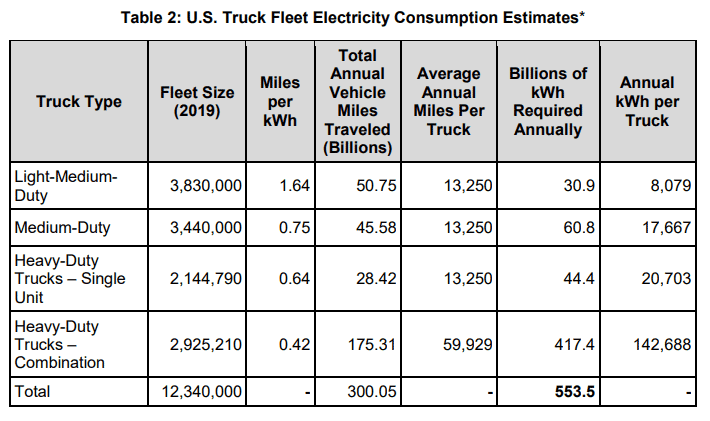 Source: ATRI
The report notes the aging US production and distribution infrastructure is old, limiting its ability to benefit from recent technology enhancements.
ATRI also notes that the convergence of an aging electrical grid, severe weather, and the limitations of renewable energy sources (e.g. energy production that depends on weather conditions with wind or sun) have resulted in the increased length and frequency of power outages. The report warns such outages could leave consumers and trucks unable to charge their cars and trucks.
Interestingly, looking at capacity by state, ATRI finds that fell BEV adoption would consume as little as 11% or less of current production in some states, but as much as 50-60% in other states. That also would imply much different costs by state to be able to meet this new demand for power.
The report also discusses what it calls the "BEV Truck Conundrum," which involves the fact that to increase the range of electric trucks, batteries must be bigger – and heavier. That add battery weight in turn reduces the amount cargo that can be hauled, increase the logistics cost per pound.
The report also takes a look at charging infrastructure, noting for example that for truck drivers that operate long-haul and utilize their sleeper berths for HOS compliance, it is imperative that battery charging take place during their mandatory rest periods.
That challenge connects with the on-going issue of a lack of parking spaces, meaning drivers need to be able to find parking with adequate charging capacity.
The report also notes a 1956 federal regulation that restricts any commercial activity at public rest areas, including fueling or restaurants, seemingly prohibiting charging station at these stops. That's easily changed, you might say. Maybe not. The report notes that "Opposition to efforts to commercialize public rest areas is strong."
ATRI notes a number of issues related to electric charging. For example, such charging takes much longer and will need to occur more frequently due to shorter driving ranges. A long-haul truck that holds 300 gallons of diesel could drive more than 1,800 miles across three days between brief refueling events, hours-of-service limitations aside. A truck with a very large 1,500 kWh battery would have to spend at least four to five consecutive hours recharging each day to do a similar task across 3-4 days.
The report also notes that with only 313,000 total truck parking spaces in the US, each charger would have to support at least five charging events per day, adding that "such efficient scheduling of chargers appears to be impossible – myriad truck drivers simply could not conduct their normal business operations while at the same time precisely coordinating commercial charger use with other truck drivers."
So charging will need to be available at shipper and receiver docks, as well as other on the road charging centers.
The report also notes this complexity: if charging at parking areas or in some other locations, the driver would not be able to move the truck at the conclusion of a 5-hour charge if they are in the middle of their mandated 10 hours of rest.
There are also major questions about who will fund and run this massive charging network – with no one really clear on that the costs will be.
In conclusion, the report says that electrification of the US vehicle fleet will result in a large increase beyond the country's present electricity generation capacity, and that "Large-scale infrastructure investment is a necessary precursor to electrification."
So, many issues and hurdles to BEVs. The good news: obviously the adoption will take time, likely many years, and may never reach full electrification. So there is some time. But these are complex challenges, and present in many cases a "chicken and egg" scenario between BEV adoption and infrastructure

Any thoughts on ATRI's report? Let us know your thoughts at the Feedback section below.

Features

Resources

Follow Us

Supply Chain Digest news is available via RSS

Newsletter

Subscribe to our insightful weekly newsletter. Get immediate access to premium contents. Its's easy and free
Enter your email below to subscribe:
Join the thousands of supply chain, logistics, technology and marketing professionals who rely on Supply Chain Digest for the best in insight, news, tools, opinion, education and solution.
h e