Category: Transportation and Logistics
Supply Chain News: Wall Street Journal Analysis Finds Amazon has Hired Risky Carriers over Past Two Years

Amazon Says Things are Different Now

Over the weekend, the Wall Street Journal published an article saying its analysis showed Amazon hired more risky freight carriers - based on US DOT safety ratings –than most other shippers over the past two years.
Amazon responds that this data is dated, and that the current picture is much different.

Surpply Chain Digest Says...

Trucking companies hauling freight for Amazon have been involved in crashes that killed more than 75 people since 2015, according to the Journal's review.

---
What do you say?
Click here to send us your comments

Click here to see reader feedback
The issue does not concern final mile deliveries made through Amazon's Delivery Service Partner program, where entrepreneurs lease up to 40 vans for final delivery to Amazon customers.
Rather, the analysis is focused on the carriers Amazon hires to move merchandise to its fulfillment centers and delivery stations, frequently in company branded trailers. Amazon contracted to move 1.5 million such loads in August alone.
"Trucking contractors that worked frequently for Amazon were more than twice as likely as all other similar companies to receive bad unsafe driving scores," the Journal analysis found. It also found that 39% of the frequent Amazon contractors in the Journal's analysis received scores at that level.
The DOT scores are based on speeding tickets, accidents and other violations.
The Journal's analysis looked at the 3,512 carriers that were inspected by authorities three or more times while moving trailers for Amazon since February 2020. That group carried 75% of Amazon tractor-trailer shipments documented in records of government inspections, which include routine compliance checks, such as at weigh stations, and traffic stops.

The Journal quotes Jason Miller, a Michigan State University professor who studies transportation safety and validated the analysis, as saying it showed carriers that "frequently haul Amazon's freight are systematically more likely to have poor driving safety scores."

While other publications and organizations have criticized Amazon's safety record, the Journal says its analysis showed for the first time how the safety performance of Amazon's carriers compared with industry averages.
The Journal article cites the example of MJS Enterprises Inc., a West Chicago, Ill., trucking company that scored worse than the level DOT officials consider problematic in all 30 months included in the Journal's analysis.

In October 2020, an MJS driver hauling a load for Amazon caused an accident that killed two others on the highway.
Many shippers have policies that don't allow trucking firms with a "conditional" rating or below. MJS had a conditional rating at the time of the fatal accident, and the carrier continued to haul Amazon freight until least until September 2021, the Journal says inspection records show.

(See More Below)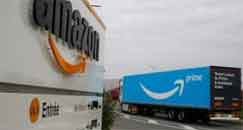 At the time, Amazon required trucking contractors to have safety ratings better than conditional, the company said. The Journal says government records showed that 48 companies with conditional ratings hauled Amazon trailers since early 2020, apparently violating its own rules.
Amazon said it had suspended 39 of those companies, including MJS. It said it had no record of working with eight, and that one didn't currently have a problem rating.
An Amazon spokesperson told the Journal that the company re-evaluates carrier scores monthly and gives them a chance to challenge suspensions. In some cases, Amazon said, it had suspended companies flagged by the Journal months or years earlier.
Trucking companies hauling freight for Amazon have been involved in crashes that killed more than 75 people since 2015, according to the Journal's review. The article recounts a number of them.
"Our goal is zero accidents, zero fatalities," said Steve DasGupta, the safety director of Amazon logistics. "We run a very safe network of tens of thousands of carriers."
DasGupta also told the Journal that Amazon had recently made changes to its screening process for carriers, and that as of July, 96.5% met Amazon's internal threshold for safety scores, which is more stringent than DOT's. Amazon said just 1% of its network fell short of its standards in September.
DasGupta also disagreed with the Journal's approach of looking at contractors scores over a period of more than two years, arguing a company's current monthly score best captures its safety performance over time.


Any thoughts on the Wall Street Journal analysis? Let us know your at the Feedback section below.

Features

Resources

Follow Us

Supply Chain Digest news is available via RSS

Newsletter

Subscribe to our insightful weekly newsletter. Get immediate access to premium contents. Its's easy and free
Enter your email below to subscribe:
Join the thousands of supply chain, logistics, technology and marketing professionals who rely on Supply Chain Digest for the best in insight, news, tools, opinion, education and solution.
h e