Category: RFID, Automated Data Collection, and Internet of Things
RFID, AIDC, and IoT News Round-Up for Nov. 30, 2021

Cary, North Carolina Partnering to Improve Lifestyles through IoT; Do you Need an RFID Blocking Wallet? IoT to Support Reducing Supply Chain CO2 Emissions in 2022, Forrester Predicts

| | |
| --- | --- |
| Nov. 30, 2021 | SCDigest Editorial Staff |
| | |
Here are a few of the top stories on RFID, bar code data collection, and supply chain IoT over the past couple of weeks.
Town of Cary, NC Deploys Iot Technology Solutions from SAS and Semtech to Improve Community Services

Semtech Corporation, a supplier of high performance analog and mixed-signal semiconductors and advanced algorithms, announced a collaboration with analytics software provider SAS and the Town of Cary, North Carolina geared around improving the overall quality of life for its citizens.

Supply Chain Digest Says...

So we think you can safely save the cost of the wallet – or if you're still worried just shield the cards with aluminum foil and you will be all set.

---
What do you say?
Click here to send us your comments

Click here to see reader feedback
Those quality of life improvements must also come while minimizing environmental footprint and reducing waste, Cary officials say.
Through the collaboration, the town and two companies will facilitate the development and deployment of edge-to-Cloud Internet of Things (IoT) solutions, solve real world challenges and make Cary the benchmark for other municipalities to replicate, Semtech said in a press release.
A previous SAS and Cary collaboration using IoT to address storm water flood alerting already has received multiple smart city innovation awards.
"This partnership represents an exciting new chapter in our IoT journey," said Nicole Raimundo, chief information officer at the Town of Cary. "We see so much potential for community-focused solutions in this collaboration with Semtech and SAS. We believe that IoT technology has amazing potential to streamline services, making us more agile and responsive. It will help us continue to meet citizen needs in surprising new ways, and we're honored by these companies' commitment to improving lives through innovation in the government space," Raimundo added.
"IoT is forcing a fundamental shift of business and operational strategies as organizations adopt new models for agile IT, edge analytics and platform-based security," said Jason Mann, vice president of IoT at SAS. "The Town of Cary adopting SAS and Semtech solutions will expand their current services while building a digital infrastructure to better meet the needs of their citizens."
Examples of specific projects the alliance may target were not provided.
Do You really Need an RFID Blocking Wallet?
For some years now, there have been news stories on the supposed risk of RFID-enabled credit cards.
The supposed threat is that bad guys with RFID readers could surreptitiously approach a person with such cards and employ a reader to grab the credit card number, expiration dated, etc., and use that data for transactions or to sell to other bad guys.

(See More Below)


This has led to a growing cottage industry of companies selling so called "RFID Blocking" wallets for men and women, from Nordstrom to small companies you never heard of, using some type of metal shielding to block the RFID reader signal. Just search for RFID blocking wallets and you will quickly see the broad range of offerings.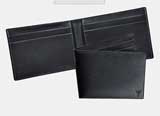 But are they really needed?
In recent article in Loss Prevention Magazine, Eva Velasquez, CEO and President of the Identity Theft Resource Center (ITRC), says there is just no data to suggest that the theoretical risk is a real-world problem.
In a recent ITRC blog, "Do I Need RIFD Protection?", the organization says, "while hacking of RFID items is certainly within the realm of possibility, it's just not a viable threat."
In fact, last time we checked a year or so ago, there were no documented reports of a successful such RFID scheme ever having been reported.
So we think you can safely save the cost of the wallet – or if you're still worried just shield the cards with aluminum foil and you will be all set.

Forrester Predicts Iot and Edge Data Collection will Help Reduce Level 3 CO2 Emissions
As part of its predictions for 2022, research firm Forrester says edge and IoT will drive new solutions for scope 3 emission reduction.
Scope 3 emissions are all indirect emissions that come from assets an organization doesn't directly own or control and form most of the carbon footprint in most industries.
"Emerging technology can help address these issues," Forrester writes, noting that in 2022, demand for sustainability-related services powered by edge and IoT will grow for energy efficiency and resource management."
It adds that high-demand use cases will include environmental monitoring, resource management, and supply chain processes.

Any reaction to the stories in this RFID/AIDC/IoT round up? Let us know your thoughts at the Feedback button below.
Features

Resources

Follow Us

Supply Chain Digest news is available via RSS

Newsletter

Subscribe to our insightful weekly newsletter. Get immediate access to premium contents. Its's easy and free
Enter your email below to subscribe:
Join the thousands of supply chain, logistics, technology and marketing professionals who rely on Supply Chain Digest for the best in insight, news, tools, opinion, education and solution.