Category: RFID, Automated Data Collection, and Internet of Things
RFID, AIDC, and IoT News: Polish Company Claims Breakthrough in RFID Tag Pricing

Talkin' Things Says Design and Process Improvements Lead to Tag for Less than 3 Cents

| | |
| --- | --- |
| Oct. 20, 2020 | SCDigest Editorial Staff |
| | |
A Polish company called Talkin' Things says it has developed a family of RFID tags that are substantially less expensive than current tags, opening up RFID to many other applications.
Supply Chain Digest Says...

Talkin' Things sees "enormous potential for further cost reduction" through such techniques as increasing production line speeds.

---
What do you say?
Click here to send us your comments

Click here to see reader feedback
Current RFID tags – generally in the form of what is called an "inlay" that is often embedded in a label or paper tag construction – at the bottom end of the spectrum cost about 5 cents.
While the RFID Labs at MIT painted the vision of a "5 cent tag" as part of what eventually became known as the EPC standard, it turned out that for many applications, especially tagging of individual items, 5 cents is still just too much.
How low does the price the price of a tag have to go to be financially viable as alternative to the bar code, which is basically free when printed as part of the packing or on a label applied to a product or carton?
It's not clear, but if the claim from Talkin' Thing is accurate, the market will soon see is much lower priced tags can open up new applications, as well as save money for companies currently using more expensive tags.
The company announced the new tag family in early October. Prior to that, it was known for a smart packaging system that used Internet of Things technology that provides brand protection capabilities, for example indicating if a given product's packaging had been opened.
Now it has added the low cost RFID tags to the product mix. The company says its 74x16 mm ISO18000-63 UHF RFID is available for just 2.7 US cents, just under half the price of a 5-cent tag.
Other tag offerings are a 23x17 mm ISO14443 HF NFC tags at 3 cents, and 23x17 mm ISO15693 HF NFC tags at 4 cents.
It is not clear many tags must be ordered to receive the publicized prices.

(See More Below)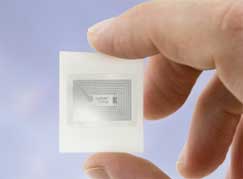 The Talkin' Things web site claims that the new low cost tags are "the result of in-depth analysis and optimization of all tag production processes. Proprietary antenna design along with virtual modeling and in-depth testing allow for uncompromised performance."
The company also says it operates its own production facility in Warsaw with the most modern bonding and converting machines to ensure outstanding quality and high yields.
It adds it sees "enormous potential for further cost reduction" through such techniques as increasing production line speeds.
The company says it can produce customized inlays, as well as both wet (with adhesive) or dry tags for customers. Samples can be ordered on the company's web site.

Does this appear like a real RFID breakthough to you? Let us know your thoughts at the Feedback button below.
Features

Resources

Follow Us

Supply Chain Digest news is available via RSS

Newsletter

Subscribe to our insightful weekly newsletter. Get immediate access to premium contents. Its's easy and free
Enter your email below to subscribe:
Join the thousands of supply chain, logistics, technology and marketing professionals who rely on Supply Chain Digest for the best in insight, news, tools, opinion, education and solution.