A largely similar story for the full year, in which sector revenues rose a strong 9.5%, and profits were up 13.4% versus 2013.
Truckload Sector Full Year 2014 Operating Results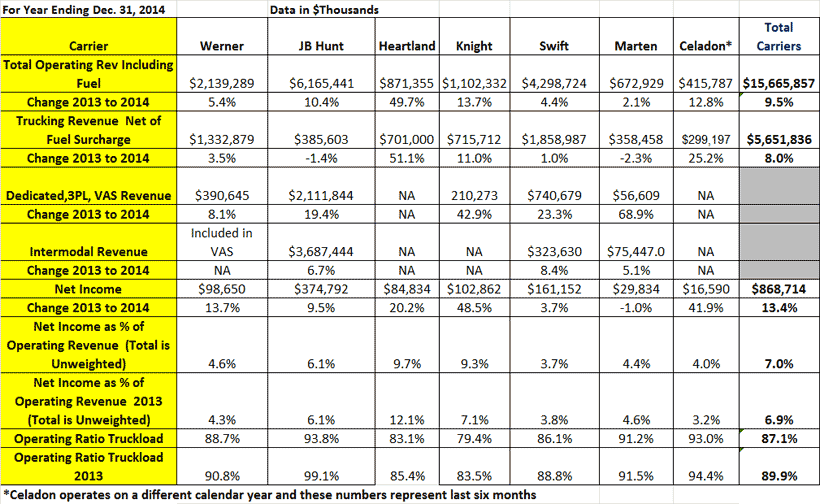 Source: SCDigest
As usual, we end with some selected comments from each carrier's earnings reports, starting with Werner, which as usual provided by far the most extensitve commentary.
Werner

Freight demand continued to be strong in fourth quarter 2014. Freight demand (as measured by its daily morning ratio of loads available to trucks available in its One-Way Truckload network) showed consistent strength, and Werner was overbooked (more available freight than available trucks at the beginning of each business day) throughout most of fourth quarter 2014.

Noted that "Truck capacity is challenged by an increasingly competitive driver market and heightened regulatory cost increases for truck ownership and safety; thus, we expect this favorable demand trend relative to constrained supply will continue in 2015. There are several new safety regulatory initiatives in process or scheduled for implementation during 2015, and we anticipate they will further tighten truck capacity."
Average revenues per total mile, net of fuel surcharge, increased 4.4% in fourth quarter 2014 compared to fourth quarter 2013. Contractual rate increases and improved freight mix combined with higher seasonal capacity surcharges in the One-Way Truckload fleet were the primary reasons for the rate improvement.
Werner said that it "made continued progress implementing sustainable rate increases with our customers during fourth quarter 2014. These efforts are ongoing as we move forward in 2015 and work to recoup the cost increases associated with more expensive equipment, a shrinking supply of qualified drivers and an increasingly challenging regulatory environment."
Company said that "the driver recruiting and retention market was difficult during fourth quarter 2014. In mid-August 2014, we increased pay by varying percentage amounts for many drivers in certain fleets within our One-Way Truckload unit. After these driver pay changes, our driver and truck count recovered and increased from July 2014 levels. Additionally over the last several months, we increased driver pay in multiple Dedicated fleets, most of which were funded by customer rate increases to ensure capacity."


JB Hunt
JB Hunt intermodal's torrid growth slowed, with total volumes up 6% over the same period in 2013. Inconsistent rail service and limited dray fleet capacity continued during the quarter. Eastern network loads increased 14% and transcontinental loads increased 1% compared to the fourth quarter 2013.
Revenue in its dedicated segment increased 10% during the current quarter over the same period 2013 primarily from rate increases implemented during the past 9 months and more activity at customer accounts.
Operating income was up 25% from a year ago

JB Hunt's truckload segemnt saw revenue for the current quarter increased 6% from the same period in 2013 on a 2% larger fleet size - n=both changes from the direction in recent quarters.
Revenue excluding fuel surcharges increased 10% primarily from increased asset utilization, intentional freight mix change and core customer rate increases of approximately 9%.
Heartland Express
The Company has completed its first full year of combined operations with Gordon Trucking. The company was integrated to a single information technology platform in the third quarter of 2014. The combined operational platform has led to favorable improvements in communications and overall fleet utilization. It has also expanded the company's area of service from predominately east of the Rockies to a coast to-coast operation.

Heartland also implemented increases to its driver pay package effective November 1, 2014, raising driver compensation, on average, by approximately 10%. Company said "This increase solidified the company's leadership position in terms of driver pay within the industry.
The average age of the Company's tractor fleet was 2.0 years as of December 31, 2014 compared to 2.4 years as of December 31, 2013.
Approximately 1,500 new trucks are currently scheduled to be received during 2015. The estimated average age of the Company's tractor fleet at the end of 2015 will be 1.3 years

Knight Transportation
Excluding the growth related to the Barr-Nunn acquisition, Knight grew revenue, excluding trucking fuel surcharge, 18.9%, when compared to the same quarter last year.
The trucking segment grew revenue 26.7% as a result of the strong rate environment and bringing on additional capacity through acquisition and organic growth. Knight's logistics segment grew revenue 56.2%,
Company said it will "pursue acquisition opportunities that enable us to meet the supply chain needs of our customers.''
Added that "Despite a strong freight environment, the current shortage of qualified driving associates has been a headwind for adding additional capacity. Our driver development and training programs remain a primary focus area for our management team."


Swift
Said truckload pricing increases and charges for repositioning continued to gain momentum, resulting in a 6.4% increase in truckload revenue net of fuel surcharge per loaded mile

Dedicated revenue net of fuel surcharge grew 28.8%, driven by the addition of multiple new customer contracts over the past 12 months
The fourth quarter Average Operational Truck Count increased 186 trucks sequentially when compared to the third quarter of 2014. This increase was in line with our previously disclosed estimate of 200 tractors. Improvements in both driver retention and recruiting facilitated this growth, which we believe to be a direct result of the driver friendly initiatives and pay increases we implemented during the year.
Marten Transport

For the fourth quarter of 2014, net income improved 22.8% to a record $9.0 million.
Company said it had an operating ratio net of fuel surcharges of 88.7%, the best quarterly performance in the last 10 years.
Said that "In the face of a difficult driver recruiting and retention environment, we successfully grew the number of tractors for our Truckload and Dedicated segments by 78 tractors in this year's fourth quarter and by 161 tractors in 2014."

Celadon
Freight revenue, which excludes fuel surcharges, increased 19.1% to $187.2 million in the December 2014 quarter from $157.2 million in the December 2013 quarter. Net income increased 66.7% to $8.5 million in the 2015 quarter from $5.1 million for the same quarter last year.
The average age of the Company's tractor fleet was 1.3 years as of December 2014 and the average age of the trailer fleet was 3.8 years as of December 2014
The increase in average seated tractor count of 203, or 5.9%, to 3,621 in the December 2014 quarter compared with 3,418 in the December 2013 quarter was a significant operating metric improvement that resulted in increased revenue for the quarter.

Any reaction to our Q4 2014 truckload segment review? Let us know your thoughts at the Feedback button (for email) or section (for web form) below.