From SCDigest's On-Target E-Magazine

- May 29, 2012 -
Logistics News: New Software Application Could Significantly Ease Effort to Connect Voice Technology to Existing WMS Software


VoiceExpress from Vocollect Leverages Existing RF Transactions to Enable Voice Applications in the WMS
SCDigest Editorial Staff

Over the past decade, voice technology in distribution has risen from a niche solution used primarily in the grocery and food service industries to a mainstream technology deployed by hundreds of companies in almost every business sector.
The benefits of voice are simple to understand. Because DC associates receive instructions and confirm what they have done using voice (a voice-enabled terminal connected to a headset with a microphone), they operate "hands-free" versus using a traditional radio frequency terminal (RF). Without the need to manage a terminal and frequently look down at the screen for the next instruction or to make sure that the last bar code scan was verified, productivity in many tasks (e.g., order picking) can be increased, often by as much as 20-25%.

SCDigest Says:

Because the basic fields and transactions are already integral to the WMS, as VoiceExpress translates the data to and from voice, the WMS really doesn't know it is now supporting voice processing - and doesn't have to.

What Do You Say?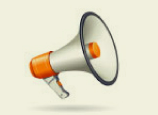 Most voice users also report improvement in accuracy gains, among other advantages.
With these kinds of benefits, why don't even more companies jump on the voice bandwagon?
The effort it takes to connect voice to some warehouse management systems is often a key factor. While today most major warehouse management systems have developed pre-built voice interfaces for tasks such as picking directly into their solutions, that only helps companies that have a fairly new version of the WMS with that native voice support. But even then, usually just a few operations have been voice enabled, meaning there might be IT work required to voice-enable another application not supported out of the box, such as receiving or cycle counting.
And of course, literally thousands of DCs are running home grown, "legacy" or other WMS technology that doesn't support voice at all. To add voice to these systems usually means using the voice vendor's own software subsystem to manage the voice transactions, interfacing that subsystem to the WMS. While this approach certainly works and has been successfully deployed by hundreds of companies, there is usually a not insubstantial level of IT work required.
The problem goes beyond just the cost of that work, because the project will usually return a healthy ROI even with the IT-related costs. Often, the issue is one of pure IT resource availability.
New Innovative Approach from Vocollect
The engineers over at Vocollect, a leading provider of voice solutions that was acquired by Intermec in 2011, has just released an innovative new solution that can significantly change the status quo with regard to connecting voice to WMS or other systems that lack voice support in total or for specific tasks.
Called VoiceExpress, the solution comes with one caveat: the transactions being considered for voice enablement must have associated RF transactions. That is because Voice Express piggybacks off those transactions to insert the voice interface - and can sometimes even improve the transaction process itself along the way.
It works like this (see graphic below): The Voice/Express system can in effect capture the RF screen sessions from the Telnet interface running on handheld or truck mounted RF terminals. It is a similar process to what is called "screen scraping," a technology that has been around for about 20 years, but Vocollect says the much better term for what it does is "screen mapping."
Vocollect's VoiceExpress Leverages Existing WMS RF Transactions to Enable Use of Voice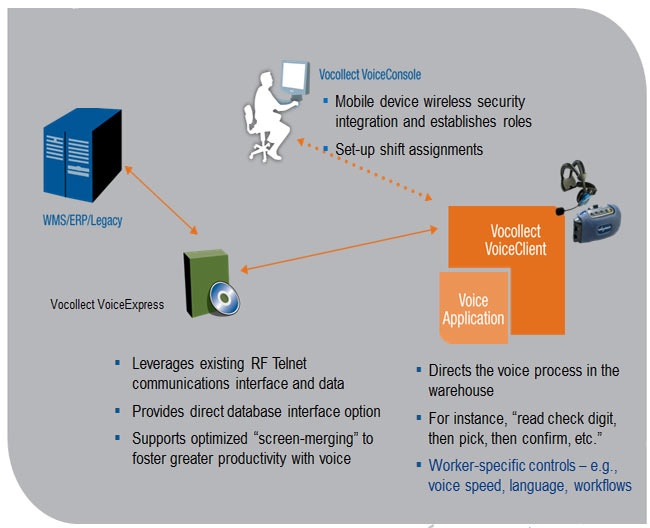 That's because VoiceExpress takes a more intelligent approach than traditional screen scraping uses, enabling a major benefit of the system. Often, existing RF screen flows have some inefficiencies, and/or can be combined for better process flow. VoiceExpress enables users to make those sorts of changes that can drive additional productivity over just exactly copying the existing RF process using voice.

(Distribution/Materials Handling Story Continues Below )