Larkin Says:

Truckload demand seems to be continuing to normalize to similar levels seen in 2013—still nowhere near the inflated comps seen in 2014.

What Do You Say?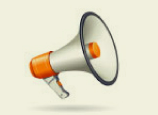 New Expert Insight Column on SCDigest: We have partnered with Stifel Financial Corp. to publish its weekly recap of the week in transportation, written by well-known analyst John Larkin. Check the SCDigest home page each Monday morning for the latest edition.
Takeaways from This Week's Fundamental Research
Railroads continue on with another week of negative market performance across the board. A negative revision on GDP, matched with softer than desired consumer spending, is resulting in a challenging environment for companies moving goods.
In quarter to date year over year terms, the best performing rail in terms of total carloads & asset efficiency (our proxy for OR) is BNSF while KSU remains at the bottom of the list.
The rest of the rails continue to reveal mixed results. See the below chart for an overview of each metric we measure weekly, as well as supporting documentation for each within this report.

Previous Columns by John Larkin
Key Insights from the Analysis of Industry Data Feeds
Trucking & Logistics:

In week 20, spot demand was mixed across indicators. The ITS Market Demand Index (MDI) measured 15.30, down 0.8% from W19. Load-to-truck ratios on DAT were mostly down this week. Dry van fell 1.0% sequentially this week, reefer fell 4.2% sequentially, and flatbed remained flat.
Looking closely at DAT spot rates, refrigerated rates increased by only 0.5% sequentially this week at $2.18 per mile. Flatbed also increased by 0.5% this week to $2.19 per mile. Dry van stayed flat this week at $1.85. ITS Market Rates increased across the board for a total sequential increase of 2.0% from last week. Notable increases included a 3.8% sequential increase in reefer rates and a 2.5% sequential increase in van rates.
Demand (MDI) moved back below the 5-year moving average after finally moving above it for the first time in nine weeks during W19. 2015 demand has beaten the average demand level only 10 times out of the 20 weeks so far this year—most of which were earlier in the year. Demand seems to be continuing to normalize to similar levels seen in 2013—still nowhere near the inflated comps seen in 2014. To compare, W20 of 2015 is up 10.9% y/y from the comparable week in 2013 and down 0.8% from the comparable week's 5-year average; however, it is down an even larger 34.3% from 2014.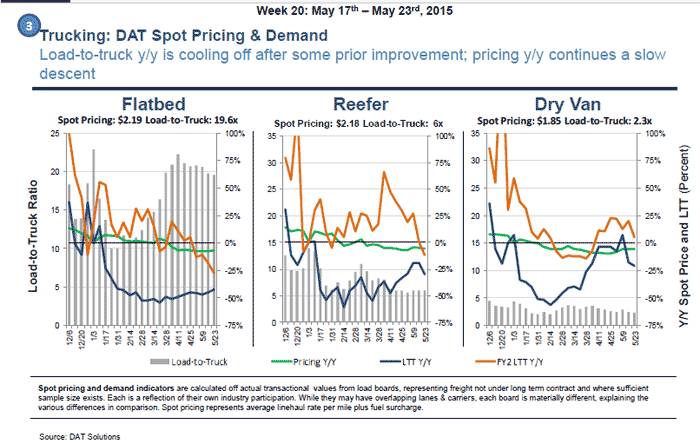 Rail:


Total unit volume (i.e., commodity carloads and intermodal units) in W20 was mixed this week for a total sequential increase of 0.3% this week. The only significant increases in total unit volume this week were KSU and UNP at 5.4% and 3.5% respective increases this week. The largest decreases were in the Canadian rails. CN and CP decreased 3.4% and 3.2%, respectively, this week. Notable commodity trends this week include crushed stone, sand and gravel, which increased 9.3% this week and primary forest products, which fell 8.6% this week.
Total commodity carloads (up 0.8% sequentially this week) showed minor strength across most rails with the strongest by far being UNP, which increased 6.6% sequentially. The Canadian rails were the weakest for commodity carloads (CN fell 3.2% and CP fell 1.7% this week). Intermodal carloads remained relatively flat and fell 0.1% this week. The leader of the group was KSU, which increased its intermodal carloads by 9.4% this week. Similarly to commodity carloads, the Canadian rails were the weakest—CP decreased its intermodal carloads by 5.7% this week and CN decreased its intermodal carloads by 3.7% this week.
Across Class I's as a whole—intermodal containers, petroleum products, and motor vehicles were up the most this week y/y. The only Class I rail that did not show an increase in intermodal containers this week y/y was KSU. Similarly to the past few weeks, most Class I rails have suffered from the weak coal volumes, which have persisted for the last several weeks due to regulations and a soft U.S. dollar. This week y/y, all major railroad unit combinations showed declines in coal. Grain, which had fallen in recent weeks, showed some improvement but still remains weak. All major railroad unit combinations showed a decline in grain volumes except for KSU and CSX.
Class I performance metrics showed mixed results this week and remain relatively unimpressive, which has been the situation for the past few weeks. On a weekly sequential basis, velocity remained relatively flat for Class I rails. Notably, KSU decreased its velocity by about 2.7%, while NSC was able to increase its velocity by 1.4%. Terminal dwell favorably decreased by 0.5%. Most rails showed decreases in dwell except for CP, which increased its dwell by 3.0% this week, and NSC, which increased its dwell by 1.2% this week. Sequentially this week, the rails are still flattening their cars on-line. In y/y terms, the rails have cut out 1,700 cars on-line relative to last year. Finally, overall asset efficiency is generally up from last quarter; however, on a total y/y basis more cars on-line have been required to move a like-for-like number of goods


Any reaction to this week's note? Let us know your thoughts in the Feedback area below.