Loughrin Says:

I have found that effective certification programs address three areas: intent, implementation and effectivness

.

---
What do you say?
Send us your comments here
Welcome to "Lean Thinking" at SCDigest. Our goal is to be your source for knowledge and the sharing of ideas in crafting lean supply chains – the best approach for reaching world class performance.
Our model for a lean supply chain is depicted below: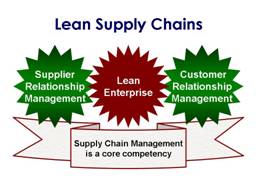 Lean Enterprise
A lean enterprise is the first step and the foundation required for a lean supply chain. Defining a lean enterprise is one of our early challenges. I will share my ideas, the ideas of others, and create open forums for you to help discuss and debate the issues. We will explore the 5 principles of lean, the 7 types of waste, performance measurements, new product development, six sigma, the theory of constraints, and other areas.
Relationship Management
Customer relationship management (CRM) and supplier relationship management (SRM) concepts provide the processes and systems that allow lean enterprises to integrate with their trading partners. We will explore how CRM and SRM concepts should be applied when crafting a lean supply chain. We will challenge many of the current fads and many of the old truths. I suspect we will find many are inappropriate, some just don't work, and a few are exceptionally valuable.
Supply Chain Management
The element that energizes our model is our axiom that a lean supply chain requires an organization to maintain supply chain management as a core competency. During many of the educational events that I deliver, I ask the participants if they work at an organization that views supply chain management as a core competency. While the percentage seems to be growing slowly, it is still under 10%. I view this as a critical issue for those claiming to desire a lean supply chain. It is also a critical issue for those claiming supply chain management as a profession – it's better to work where your skills are highly valued, then to work where you are viewed as a necessary evil.
Lean Certification
The information we provide through articles and open forums will build our knowledge base here at lean thinking. Our aim also includes helping you apply the knowledge by conducting effective lean initiatives while addressing the project management and change management challenges. While there are some lean certifications, I have found them to be too focused and too subjective. Using advice from Stephen R. Covey, we should "begin with the end in mind" and launch lean initiatives with a quantifiable definition of a lean supply chain. I have found that effective certification programs address three areas: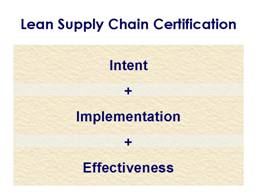 Intent: Documented evidence of expectations for objectives or business processes. This evidence is generally in the form of policy statements and standard operating procedures.
Implementation: Verification that the documented evidence of the intent of objectives or processes has been implemented throughout the organization. This verification is generally in the form of process audits, meeting audits, and the analysis of current plans or schedules.
Effectiveness: Analysis of actual results in meeting business objectives and executing business processes. This analysis is generally in the form of published performance, random audits of actual inventory, orders, or other records, and discussions with employees.
This brings us to our first open forum:
What should be included in a lean supply chain certification?
How should we measure the intent, implementation, and effectiveness of each element?
Send me your ideas at feedback@scdigest.com.
Agree or disgree with our expert's perspective? What would you add? Let us know your thoughts for publication in the SCDigest newsletter Feedback section, and on the web site. Upon request, comments will be posted with the respondents name or company withheld.