Both general trends and a series of recent events have more and more companies concerned with supply chain risk management.
SCDigest Says:

Dr. Simchi-Levi has added some important new concepts to the original model through his work with companies such as Ford and others, and Ford will detail how the strategy has really opened its eyes to new ways to think about risk mitigation.

---

Research has shown the impact of supply chain disruptions on a company's share price,market share and/or brand image, for example.
In addition, a series of natural disasters and events, most notably the 2011 earthquake and tsunami in Japan that seriously hampered production at Toyota for months and impacted much of the rest of the global automotive supply chain as well, forced many companies to realize they had major risks in their supply chain of which they were not even aware, let alone had plans on how to mitigate those risks.
Major flooding in Thailand that seriously impacted the high tech supply chain, a volcano in Iceland that caused problems for hundreds or thousands of countries, turmoil in parts of the Middle East - all these and more focused companies on the need for better and deeper risk management strategies.
But there major challenges. How can companies mitigate risks such as natural disasters, or factory damage that simply cannot be predicted or modeled - the "unknown unknowns?"
And what level of investment makes sense to mitigate a given risk, or a series of risks combined? There aren't many tools available for that, as most companies used a two-by-two type matrix, with likelihood of occurence (low and high) along one dimension, and level of business impact along the other.
The "high-high" quandrant was obviously the one that needed the most attention, and the "low-low" section the areas that could probably be ignored, but what about the other two "low-high" combinations? How much focus should they receive?
And even for the "high-high" areas, you are led back to the question of how much to invest in mitigation, and the lists of risks usually leaves out the tough "unknown unknowns," naturally enough.
In 2012, Dr. David Simchi-Levi of MIT came up with a model and approach to answer these and other tough risk management challenges. Using what he calls the Risk Exposure Index (REI), the tool enables companies really for the first time to quantify the risks in their supply chain, especially those stemming from the unknown unknowns, such as natural disasters, factory fires, etc.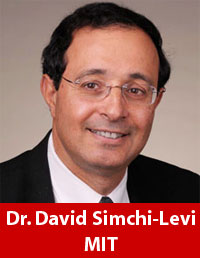 A number of companies across the globe in several industries have already adopted the REI approach. One of those is auto giant Ford Motor company, and Ford is sharing its new risk management strategy in a major new Videocast Dec. 3rd on our Supply Chain Television Channel.
For more information about this Videocast and to register for this event: New Approach to Supplier Risk Management at Ford.
Even if you can't make the Dec. 3rd broadcast, by registering now you will receive automatic access to the on-demand version available within 1-2 days of the live event.
Discussing Ford's new approach will be SCDigest editor Dan Gilmore, Dr. Simchi-Levi, and Michael Sanders of Ford's procurement organization, who is leading the implementation of this new risk management effort at the company.
Below, we offer a quick sneak preview with a snippet from the upcoming Videocast.
Ford Supplier Risk Management Videocast Preview
(Supply Chain Trends and Issues Article - Continued Below)