David K. Schneider
Guest Contributor
SCDigest Says:

WalMart can back haul the freight for the entire chain out of any vendor or back to its distribution center in a full truckload quantity. At the distribution center it can unload and re-consolidate product to be shipped to one of the other 149 distribution centers.

.
---

In part 1 of this article, we discussed the difference between strategy and tactics, and how many have not well interpreted the full story behind WalMart's decision to take greater or even full control of its inbound freight. (See WalMart's Inbound Freight Move Could be a Game Changer.)
As I concluded then, I suspect that there's even more savings, even more efficiencies brought to the entire supply chain when WalMart takes complete control of the transportation network. And I believe that these efficiencies will provide WalMart with the ability to deliver on a host of other strategic results that they have promised the world.
Below, we look at the many ways WalMart can leverage this inbound transportation strategy.
Sustainability - Strategy
In February 2010 WalMart announced that it would dramatically cut fuel consumption and greenhouse gas emission of its operations. The goal is daunting: WalMart is striving to deliver on 3 massive but simple and straightforward sustainability goals:
To be supplied 100% by renewable energy

To create ZERO waste

To sell products that sustain people and the environment
Simple and straightforward? Yes. Easy to achieve? Very difficult. This is the kind of corporate goals that could damage a bottom line. But I am sure that WalMart is looking at ways for sustainability goals to be in alignment with their fiscal goals.
Fleet Efficiency - Tactic
When you consider the size of Wal-Mart's private fleet there is only so much that they can do to drive greater efficiency and lower their carbon footprint. Not that they haven't been trying. From 2005 to 2008 WalMart increase the fuel efficiency in the private fleet by 38%. Much of this fuel efficiency was achieved through technology and the use of more aerodynamic trucks. They looked at alternative fuels, auxiliary power units and aerodynamic fairings on both tractors and trailers.
WalMart also understands that every truck is equipped with a resource that needs to be retrained – the driver. An early adopter of Electronic On-Board Recorders (EOBR) units, Wal-Mart not only uses the technology to track the location of the rigs, they track the fuel burn and monitor the drivers right foot, gear selection and other driver decisions. Altering driver behavior is the next frontier of driving more fuel efficiency.
WalMart's published goal is to double the truck fleet efficiency by October of 2015, so in 5 years they expect to almost double what they achieved between 2005 and 2008.
There's many ways to skin the fuel efficiency cat. One clear methodology is to run fewer empty miles. According to WalMart's own press their efforts to reduce empty miles and optimizing how merchandise is stacked in the trailers the private fleet logged 87 million fewer miles in 2008 while transporting 161,000 more cases, allowing the company to save 15,000,000 gallons of diesel fuel. Investments in GPS-based routing applications, strong load optimization tools for load planning and cube utilization, developing new loading practices, all will help improve costs.
Reducing package size and increasing "value density" helps reduce miles. WalMart is working hard to reduce packaging by 5% by 2013. But packaging does not even touch on the impact of improved value density. As the product mix changes and the cost of products continue to decline, WalMart is challenged to get even more product into less space, not only of transport, but for warehousing and store space. Detergent formulations that reduce the water content, package redesigns that change the shape of the cartons to increase the count loaded onto the truck, carton designs that reduce the "dead space" around the product but sill provide the protection needed, all of these efforts will directly reduce transit cost and carbon footprint.
Continuous Moves - Tactic:
WalMart's private fleet only handles a portion of the total transportation demand of the company. What is needed is to reduce the operations costs of the fleets operated by others.
With vendor controlled PPD inbound scenario trucks delivering vendor goods will leave the Wal-Mart distribution center empty. Those empty trucks will travel a distance, sometimes as much as 100 miles, before picking up the next load, creating waste. If you assume that every vendor truck delivering to a Wal-Mart distribution center has to reposition 50 miles, at 200,000 loads per month, 2.4 million loads per year, that is 120 MILLION empty miles burning over 21 MILLION gallons of diesel worth almost $68 MILLION at fuel cost.
By taking over responsibility for the control of the inbound WalMart can use those same inbound trucks for delivery of goods to their stores, creating continuous moves for the carriers.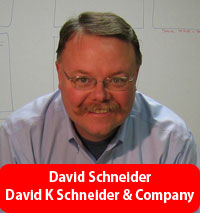 In the past 10 years truckload carriers and logistics management 3PLs have chipped away more and more volume from traditional less than truckload carriers. The pricing schemes that the truckload carriers offer shippers is continuous move pricing where when the shipper continues the truck on multiple legs through the course of the week a carrier will offer aggressively low per mile rates. Continuous move pricing makes perfect sense and when done properly is a win-win situation for both the carrier and the shipper. The shipper wins because overall every leg of the freight movements that executed at a lower cost per mile. The carrier wins because the carrier didn't have the cost burden of the empty miles to reposition the truck for a number customer move.
Continuous move is simple in theory but somewhat more difficult in execution. A shipper must control freight moving in all directions out from the DC and back from the market. The volumes must be steady, with a large and wide freight base that has excellent matched delivery to pick-up density. Few shippers will have a broad enough base of both delivery points and vendor locations to make this pricing concept work. Except for our friends at WalMart. They look at the market as a "target rich" environment where just about anywhere there is store there is a vendor not far away.
Continuous Move not only saves costs, it reduces the carbon footprint – a tactic that meets two strategic goals.
Mode Change and Consolidation Network - Tactic:
There is no guarantee that a vendor is going to use the most efficient method of shipping. When transportation costs are a pass-through some vendors take a "who cares" attitude. Even when the competitive environment pressures the vendor to be tight with the freight costs, the shipment profile that the vendor can achieve may not be as cost efficient as what WalMart can accomplish. While smart retailers will work to force vendors to be more efficient, most vendors will only make a token effort.
In many cases the proper order replenishment shipment size for products is not a truckload sized shipment, even with Wal-Mart's buying power. With around 150 distribution centers, and each distribution center servicing 75 to 100 stores with the unique merchandise assortment, many products shipped to Wal-Mart are not shipped in truckload quantities. Less-than-truckload networks will tout that they are more fuel efficient, in reality each freight move on LTL system potentially uses 15% to 50% more fuel than if that freight moved directly from origin to destination in a full truckload.
WalMart with itsr network a distribution centers is in a perfect position to create their own less than truckload network without having to be a less than truckload carrier. Every domestic vendor for Wal-Mart is within the delivery territory of one of its 150 distribution centers. WalMart can back haul the freight for the entire chain out of any vendor or back to its distribution center in a full truckload quantity. At the distribution center it can unload and re-consolidate product to be shipped to one of the other 149 distribution centers.
This is a huge game changer. From my own experience in a logistics operators seat we reduced our less than truckload spend by almost 40% by using a backhaul consolidation program. If Wal-Mart can accomplish this it will remove an incredible amount of freight volume from a wide variety of less than truckload carriers, saving tens of millions of freight cost.
Once the freight is consolidated into an outbound trailer it can move either over the road to a distribution center less than 500 miles away, or it can move intermodal to a distribution center across the country. Intermodal not only drops cost, it reduces the carbon footprint, making another step towards the sustainability goals that Wal-Mart has set.
Another substantial savings to WalMart will be the efficiency that it gains in its receiving and unloading operations. Typically receiving less than truckload deliveries is less efficient than receiving a full truckload. While there may be less freight handled the time the door is occupied is almost the same. Less than truckload traditionally comes in shorter trailers, creating more traffic in the yard and more congestion. In fact, with vendor controlled LTL a typical broad line distribution center could be visited by over 40 different regional and local LTL carriers in a single day. In a study I conducted a few years ago at a typical high volume DC, the average LTL "trailer to dock" interface delivered an average of 1.7 pallets per delivery and each delivery used an average 34 minutes of time.
By eliminating the arrival and unloading of live LTL loads and converting their operation and to truckload Wal-Mart can see as much as a 50% increase in its loading dock efficiencies.
Drop and Hook – Tactic:
With the mode shift to mostly truckload Wal-Mart can create a Drop and the Hook program with its carriers. Truckload carriers will price drop and hook moves at a lower cost than freight moves where there is a live unload because the driver is not being detained waiting for an appointment or waiting while the trailers unloaded. In some cases I drop and hook rate can be as much as $100 per truckload less than a live unload. Drop and hook could be potentially a $10 million cost savings to Wal-Mart.
Physical Activity Planning – Tactic:
The ability to accurately control the delivery of goods into its distribution centers is another huge opportunity for efficiency gains. Gaining visibility of the inbound freight before it is picked up allows inbound planners to schedule the freight to match what is needed in inventory replenishment and manage labor needs – adding predictability and performance.
To understand where the gain comes from let's look at how the process works. Wal-Mart plans its inventory in distribution centers very tightly. Using advanced inventory planning tools Wal-Mart issues purchase orders to its vendors based off of a "must arrive by date" – MABD. Wal-Mart uses a transit calculator to figure how long it will take to deliver a load from the origins to the distribution center. Wal-Mart coaches suppliers to deliver in a four-day window surrounding that date. Under collect terms the supplier is required to have the load ready to pick up within a certain window and inform Wal-Mart of its readiness. Wal-Mart's logistics coordinators then schedule the pickup with either a private fleet truck or a truck from one of its contract carriers.
Vendors are held responsible for making sure that they hit the pickup date. Vendors who don't have the freight ready for pickup on-time are charged 3% of the PO value, a substantial enough incentive to make sure that the freight is ready for pickup. From that point Wal-Mart and its carriers take on the responsibility of getting the freight to the distribution center on-time.
This gives Wal-Mart an incredible visibility into the timing of its inbound loads. With a high level of reliability the inbound planners at the Wal-Mart distribution centers can effectively be planning the laborer load of the receiving docks 3 to 5 days in advance. That kind of advanced notice for staff planning is huge. The Wal-Mart distribution centers could monitor what their inbound traffic is in their yards and be able to either speed up or slow down the delivery of goods is needed.
Reliability breeds inventory reduction – BIG Tactic that serves a BIG Strategic Opportunity
What is the benefit of reliability? Well, size does make it relative, and in the case of WalMart the benefit of added supply chain reliability could be – on the low side - half a billion dollars inventory reduction. On the high side - $2 billion is possible (may not be probable).
Based on WalMart's Return on Investment (ROI) rate of 19.3% - $500 million in inventory reduction creates $96.5 million incremental operating income – increasing operating income by 40 basis points. If they reduced inventory by $2 billion the impact could be $386 million in additional operating income – a 160 basis point increase. These are big moves in how the company measures its performance.
Do I have your attention now?
As many a supply chain manager will say, but perhaps not fully understand, safety stock is built into the inventory to provide "insurance" against "Murphy's Law". We logisticians and supply chain managers and officers live daily with the long list of "what can and does go wrong" every day. And when things go wrong the result can be that the retail shelf is empty. Empty shelves in a retail store are not perceived as a "good thing" – we customers demand retailers to be "in stock when I want to buy" and we will literally throw a tantrum if we can't buy what we want when we want it.
So there are basically two ways to make sure there is never an empty shelf:
Invest in more inventory than you sell so the shelf goes empty aka – Safety Stock

Invest in skills and tools and create the processes to assure that you replenish the inventory as it is sold
Most large box retailers do both. Some, like WalMart, will work real hard to lower the cost of goods so that they can offer a lower price. The secondary benefit of the "low price" approach is that it helps lower the investment in the additional inventory, lower the cost of the safety stock.
(Transportation Management Article - Continued Below)