Is E-Voting a First Step?
Meanwhile, business groups are also concerned that the Obama administration may try to move down the path to card check though regulatory means rather than legislation.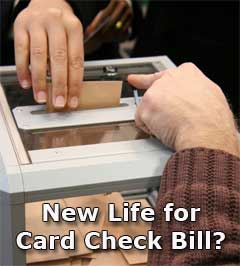 Recently, the National Labor Relations Board (NLRB) issued a "request for information" that asks federal contractors how they would administer a union electronic voting system, in place of the paper ballots used currently. The notice asks contractors to provide information on how they would implement a system and how much it would cost.
NLRB "is going to look for ways to implement, if not the letter of card-check, then its spirit," said Glenn Spencer, executive director of the U.S. Chamber of Commerce's Workforce Freedom Initiative. "They will look for ways around the private ballot, taking the worker out of the privacy of the ballot booth. This is just the first step."
NLRB, however, responded to the criticism by saying that the use of electronic voting would be in support of secret-ballot elections.
Added the Coalition for a Democratic Workplace, a pro-business group: "Among other adverse impacts, using electronic means to permit off-site, or remote, voting during union organizing elections will subject employees to a level of intimidation and coercion that does not occur during an on-site, private ballot election that is directly supervised by the NLRB," the coalition said in the letter. "Electronic voting bears a striking resemblance to the card-check scheme."
Toyota in Cross-Hairs
At the same time, new UAW president Bob King vowed the union would "pound Toyota," whose US factories are non-union, until factory workers there joined the UAW. He hoped to use the negative publicity around the supposed sticking accelerators in many Toyota models to garner public support.
King vowed to bring protesters, including retirees, to picket outside Toyota dealerships with banners charging that the automaker puts "Profits Before People."
"We're going to pound on Toyota until they recognize the First-Amendment rights of workers to come into the UAW," King told over 1,000 UAW members at the same convention in Detroit that Sen. Harkin made his comments.
UAW has been miffed that Toyota is closing a Fremont, CA plant that it had been operating in partnership with General Motors that had produced the Corolla and Tacoma models for Toyota and was unionized. In a move that further angered the union, Toyota announced on Thursday that it would shift production of the Corolla sedan to a still-unfinished and likely non-union plant in Mississippi.
Do you think the Card Check bill could come to a vote and even pass yet in 2010? Is e-voting something to worry about similar to card check, or a non-issue? Will the UAW succeed with Toyota? Let us know your thoughts at the Feedback button below.
SCDigest is Twittering!
Follow us now at https://twitter.com/scdigest