With the global economy still sputtering, beset most recently for months by the debt crisis in Europe, it seems virtually every country is looking to its manufacturing sector to drive growth and jobs.
How are those strategies holding up?
The chart below shows current levels of manufacturing growth or contraction across 30 countries, including the Euro zone as a whole, as measured by the Purchasing Managers index in each of the past two months. As always, a score above 50 indicates manufacturing expansion, a score of under 50 signals manufacturing contraction. The PMI scores for January have just been released in the past few days.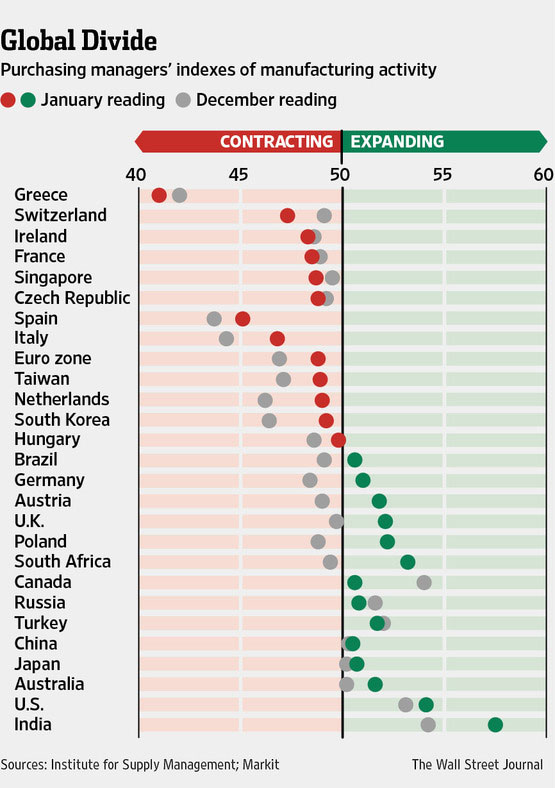 Source: The Wall Street Journal
Interestingly, the data shows an even divide:15 countries with expanding manufacturing, and another 15 with declining manufacturing fortures, as indicated by scores for January below 50.
Manufacturing really has been a bright spot for the US, with its score rising 1 percentage point in January to 54.1. The US PMI has remained above the 50 level since August, 2009.
Even better, new orders—a predictor of future activity—rose 2.8 points to 57.6 in January, the highest level since April of 2011.
Surprisingly, China has of late been just barely over the 50 mark. Additionally, the "under 50" group is clearly dominated by Euro countries.
Just one country, India, was over the 55 mark, a level often well exceeded in really good times.
Despite relatively good news in the US, on a global basis the economy continues to limp along. But that's better than a double-dip recenssion.
Have a comment? Send it at the Feedback button below.