Vendor compliance programs have never been more important, especially for retailers but increasingly companies in virtually all sectors.


Why? It's simple: working with suppliers to consistently meet requirements for order processing, delivery, labeling and documentation, Advanced Ship Notices and more is key to reducing supply chain variability, removing waste from the supply chain, maintaining a smooth flow of goods, and more.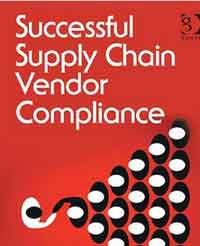 The good news: expert Norman Katz recently wrote the book on vendor compliance - literally. His "Successful Supply Chain Vendor Compliance" is really the first work of its kind, and provides a valuable roadmap to implementing a fair and effective program, both in retail and beyond.


In this outstanding Videocast, Katz will summarize key elements of book. Highlights of the broadcast will include:


• Compliance program guiding principles
• What is permissible under the law relative to vendor chargebacks?
• Common mistakes companies make in rolling out and maintaining vendor compliance programs
• The many "E's" of successful vendor compliance, from "Envision" to "Ethics"


Not to be missed for those interested in starting or improving vendor compliance programs.


This Videocast will feature SCDigest editor Dan Gilmore, Norman Katz, consultant and author of "Successful Supply Chain Vendor Compliance," and Greg Holder, CEO, Compliance Networks, a provider of vendor compliance software solutions.