Do you have some opportunities for rather easily unlocking some serious cash in your supply chain network?

The answer for many companies is Yes, Toby Brzoznowski, an executive VP at supply chain network design and other planning solutions provider LLamasoft.
SCDigest Says:

The key point is that these savings were achieve without creating new buildings or making adjustments to the network - that's what makes in found money.

---

He said that in working with many companies on larger supply chain network design projects, LLamasoft kept coming across many more focused areas for improvement in just a part of the network that could deliver large supply chain cost savings.

These were often like "found money," Brzoznowski said - the equivalent of discovering a $20 bill in the pocket of a sports coat you haven't worn for a while - except in the supply chain, it is more likely to be the equivalent of a $2 million or even $20 million bill.

SCDigest has actually turned Brzoznowski and LLamasoft's insights in this area into a three part Supply Chain Thought Leaders video series, in which Brzoznowski discusses in each episode one of more such opportunities with SCDigest editor Dan Gilmore.

In part 1, the discussion was around opportunities from implementing "product flow path optimization," an included a case study of a retailer that was able to achieve $20 million in annual savings from simply optimizing which SKUs were brought in through which ports. View it here at: ''Found Money'' in Your Supply Chain Part 1.
In the just released part 2, Brzoznowski and Gilmore discuss demand segmentation and how that can be used to "right size" inventories across the network.
There are many areas of the supply chain that can benefit from segmentation strategies, including customers, suppliers, SKUs and more, but in this broadcast Brzoznowski focused on demand segmentation, which at a high level can be described as looking for "like buying behaviors" around customers or groups of SKUs.

That means going beyond simple A-B-C-D type approaches of classifying inventory based purely on sales volume or movement, Brzoznowski said.
---
Related Content: White Paper - The Next Generation of Inventory Optimization has Arrived

---
"In many cases, only 50% of the SKUs at a company actually follow a sort of "normal" pattern that most companies rely on to set inventory policies," Brzoznowski said. More "lumpy" demand patterns are quite common, he added.

Found Money in the Supply Chain Part 2
- Demand Segmentation and Inventory Rightsizing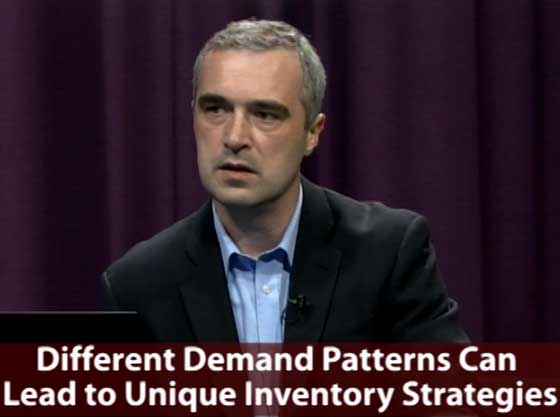 The key is to be able to segment different SKUs into groups, and then set inventory and safety stock policies appropriate to each profile, Brzoznowski said.


(Supply Chain Trends and Issues Article - Continued Below)