We're just catching up with this past summer's latest Gartner hype cycle for what it calls "emerging technologies." Of course, Gartner produces - usually annually - these graphics for a number of technology areas, including supply chain.
Each hype cycle graphic basically traces the typical lifecycle of a new technology from initial introduction and market development to its maximum hype, followed by the famous "trough of disillusionment" beore eventual redemption in the "slope of enlightenment."
RFID in retail nearly perfectly followed this course, reaching its hype peak in 2003 and 2004 during the early days of the Walmart tagging mandate before that program - and retail/consumer goods activitiy in RFID generally - collapsed not long thereafter. Disillusionment indeed - ask Procter & Gamble or Kimberly Clark.
With item-level tagging now seeming to produce real value in the soft goods retail sector, RFID may be well down the path to the enlightenment phase about a decade later.
The chart below from Gartner places some 30 new technologies somewhere on this lifecycle curve.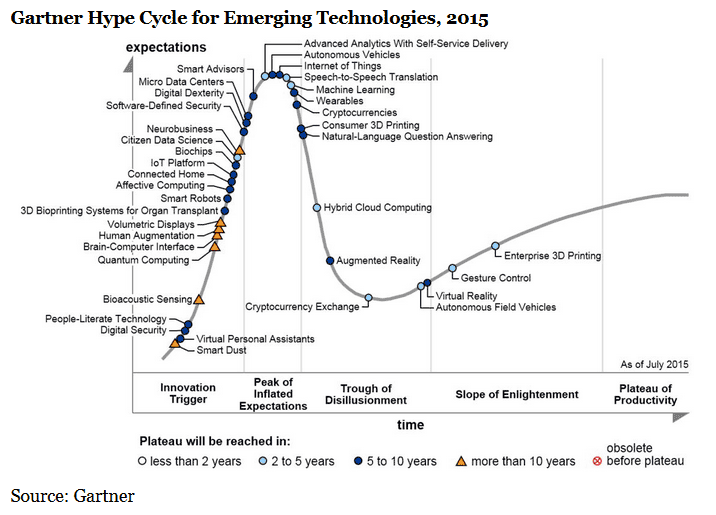 A couple of things caught our eye. First, the Internet of Things is positioned absolutely at the very peak of the hype cycle, and SCDigest agrees. As evidence, a column this week on Fortune.com in which the magazine's Jonathan Vanian wrote breathlessly that "The Internet of things, in which anything from refrigerators to cars are connected online, is such an important development that companies failing to recognize it risk becoming irrelevant." Well.
That means some IoT disillusionment is right around the corner.
Gartner itself calls out some interesting new technologies, including:
People-Literate Technology (PLT) turns common language into computer smarts. Imagine your device with only a blank screen with one blank dialogue box into which you can type or talk into and receive an intelligent response (or clarifying question) that retains and reuses previous conversations. PLTs will become the dominant model: by 2020, at least 40% of people will primarily interact with PLTs, removing much of the perceived need to invest in further improving "computer literacy."
Smart dust, while embryonic, is on the rise and promises transformational change in all areas of business and people's lives. "Off the shelf" smart dust motes can be configured with sensors that detect and measure a variety of properties, such as temperature, barometric pressure, humidity, light intensity, acceleration, vibration, magnetism, acoustic level and location (using GPS). Businesses will use them to detect forest fires or damage to industrial systems and buildings, without human effort or risk. (We note there are many more applications than just that.)
SCDigest is proud to note we first wrote about motes in 2005 (see Technologies to Watch: Motes.)
Citizen data science? Affective computing? No idea - we will have to do some digging.
Any Feedback on our Supply Chain Graphic of the Week? Let us know your thoughts at the Feedback section below.