Reuben Slone, SVP of Supply Chain at Walgreens, usually delivers an excellent presentaton, and he did do again this week at the Gartner Supply Chain Executive Conference in Phoenix as a Wednesday keynoter.
Slone covered a lot of ground, but we especially liked his simple but powerful model for supply chain performance, we which have recreated below as our graphic of the week: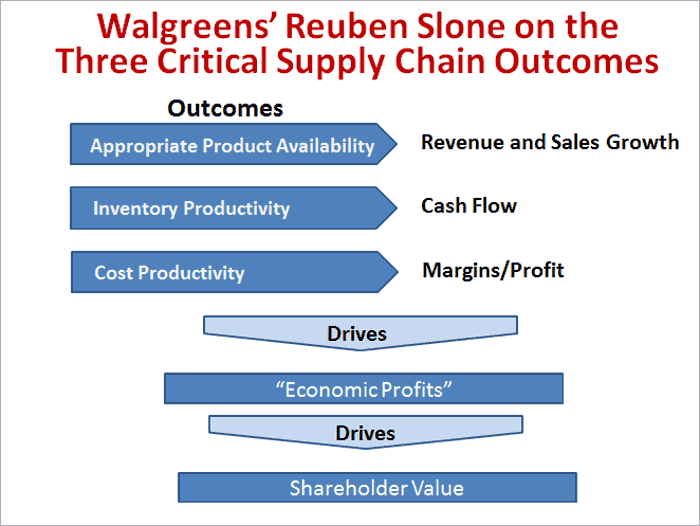 Source: Reuben Slone, Walgreens
The model focuses on the key three supply chain outcomes. First is appropriate product availability, which drives revenue and sales growth. But supply chains must provide that availability with high levels of inventory productivity, which drives improved cash flow. And of course, cost productivity is also key, as that drives margins and profits.
Get those three things right, and you create "economic profit," basically profits left after a charge for a company's cost of capital (EVA analysis, for those familiar with that term/concept).
Create economic profits, and shareholder value will grow.
Supply chain finance boiled down to a few simple concepts. Now go out and do it!
Any Feedback on our Supply Chain Graphic of the Week? Let us know your thoughts at the Feedback section below.