Apple has apparently been auditing its suppliers since 2007, but the practice really started to take off in 2011, at a period in which the electronics gaint was facing sharp criticism that workers in its extended supply chain - notably at contract manufacturing giant Foxconn - were laboring under very poor working conditions.
In its 2011 "Supplier Responsibility Report," Apple was very candid about the shortcomings it faced in many areas of its supply chain, which we at the time said was going to set a new standard for such reporting.
Well, the 2015 Apple supplier report is here, and Apple has continued to up the ante in terms of such supplier analysis.
As can seen in the graphic below from the report, Apple conducted 633 supplier audits in 2014, up 42% from the 451 audits it conducted in 2013. That included 210 audits of supplier sites that had not been audited in the past.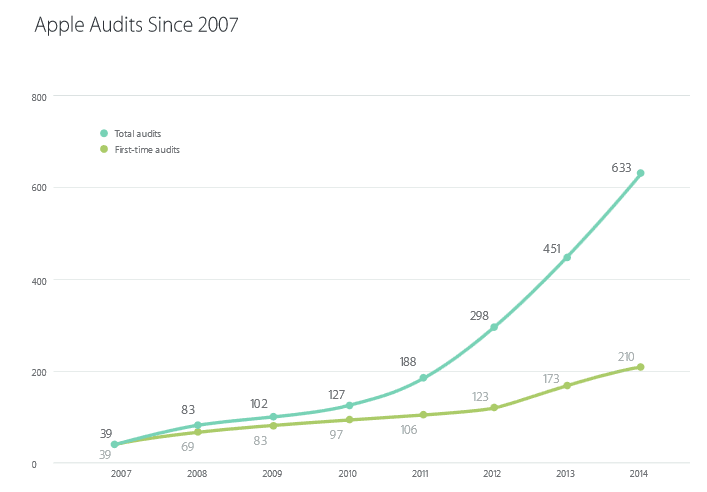 These audits aren't trivial affairs. According to Apple, the process works like this:
1. Preparation: First, every new factory must follow Apple's Code and Standards, and agree to be audited. Audits are prioritized based on geographic risk, previous audit performance, commodity risks, and planned spending, as well as concerns brought to Apple by internal teams, external stakeholders, NGOs, and others.

2. Onsite Audit: Every onsite audit is led by Apple auditors, and supported by local third-party auditors and experts who have been trained on Apple auditing protocols. Together those teams review hundreds of payroll documents, interview workers, physically assess the health and safety conditions of the facilities, and inspect the environmental conditions inside and outside the factory walls.

3. Corrective Action: Suppliers are required to remediate all violations. Every supplier must submit a Corrective Action Plan within two weeks of the audit, outlining a corrective course of action. Severe violations negatively affect the supplier's business relationship with Apple, including possible termination.

4. Monitor: A team of verification specialists works with suppliers, checking in at 30-, 60-, and 90-day intervals, to make sure they're on track. Any delayed progress is escalated to senior management.

5. Verify Remediation: Apple hires a third-party auditor to visit the facility at the 120-day mark to independently confirm that everything was resolved to its standards. If not, a second verification is scheduled within 30 days.
When you have iPhone profits, we guess all of this is easily affordable.
Any Feedback on our Supply Chain Graphic of the Week? Let us know your thoughts at the Feedback section below.