The concept of the Bullwhip Effect has been around for many years and should be familiar to most supply chain professionals.
Indeed, the phenomenom - in which orders become increasingly more variable as you move back from the point of sale back through the supply chain - was actually first called the Forrester Effect, after Jay Forrester of MIT, who first identified this issue more than 50 years ago.
The noton seems to have largely faded from the scene in the 1970s and 1980s, and if you wonder how that could be, remember the notion of supply chain management didn't really take hold until the late 1980s. And we lacked the Internet.
The Bullwhip Effect got its new name in the early 1990s, when Dr. Hau Lee of Stanford, in combination with Procter & Gamble, re-emphasized this SCM malady in several major journal articles (and used the Bullwhip term because that's what a graph of the demand signals back through the chain resembled), and the concept gained generally widespread recognition ever since.
That said, since the Bullwhip Effect simply has not come close to going away, it's always good for a little refresher course.
In December, SCDigest conducted one of our "Townhall Meetings" on JDA Software's new Flowcasting solution, conceptually developed by Andre Martin, the inventor of the original Distribution Requirements Planning (DRP) approach. Flowcasting takes DRP from basically ending at a retailer's DC all the way to the store shelf, and through its collaborative basis holds the promise of greatly reducing the dreaded Bullwhip.
During that Townhall, Kevin Smith, a former senior supply chain manager at Kraft Foods and now running his own boutique consulting firm as well as teaching at Depaul University presented the following chart, which illustrates but also quantifies the impact of the Bullwhip Effect.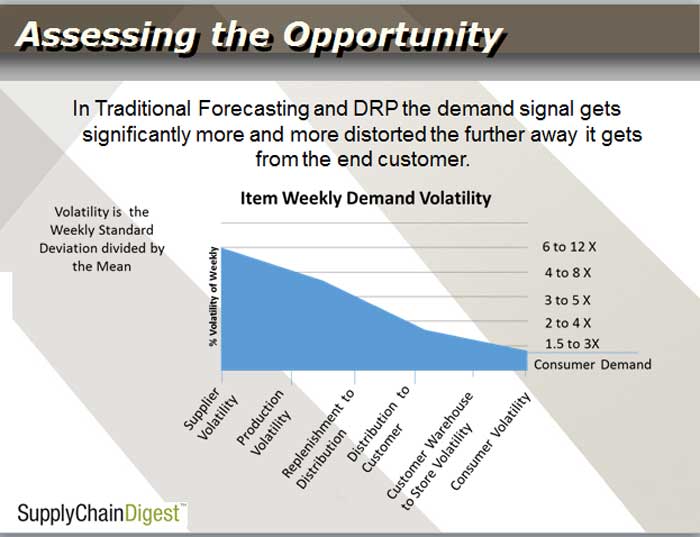 Source: Kevin Smith, DePaul
As is nicely illustrated, demand volatility at a supplier to a consumer goods manufacturer can be as much as 6-12 times that of actual consumer demand. Production requirement variability 4-8 times, etc.
Will we still be bemoaning the Bullwhip Effect in another 50 years? What a great question.
You can listen to the excellent Townhall Meeting here: Is Flowcasting a Breakthrough Technology in the Consumer Goods to Retail Sector
Any Feedback on our Supply Chain Graphic of the Week? Let us know your thoughts at the Feedback section below.