As is usually the case, the annual 3PL Study, released at the annual CSCMP conference two weeks ago in San Antonio by Dr. John Langley of Penn State and and assorted sponsors, contained a special section on focused topics after the first half of the report, which summarized survey data from 3PLs and shippers.
One of those focus topics this year was omni-channel retailing and efulfillment, certainly very timely and hot subjects.
That section included the chart below, based on a question that asked some 300 retailers what their biggest challenges were in efulfillment. The first numbers represent the number of retailers who selected that challenge as one of their top three. The report oddly did not compute the percentages, which SCDigest has added next to each raw number.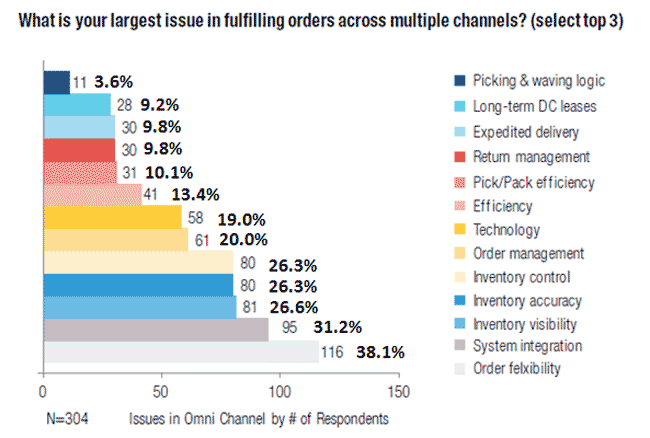 Source: 2015 3PL Study
As can be seen, "order flexibility" topped the list, though that was not chosen by even half of the respondents, who each have their own unique omni-channel requirements. It is not clear what "order flexibility" even really means, but we assume most retailers took it to be related to the core issue of multi-channel - how can we flexibly take orders from multiple points of interaction and fulfill them from multiple sourcing points, depending on which offers the lowest cost or meets customer requirements.
That of course really is the essense of the omni-channel challenge. Seems like maybe 100% shoudl have picked that one as a top 3.
Systems integration - and lots of it - is usually needed to make all that happen, so it's no surprise to see that come in second place. A series of inventory management issues came in at the 3 through 5 spots, which again sounds about right to us.
Only 20% citing technology as one of the three largest issues, however, does not seem right to us, as omni-channel is hugely a technology-related problem, and usually things like order flexibility and inventory visbility are issues because a retailer lacks the right technical capabilties.
Picking and waving logic in the DC? Well, that was cited by just 3.6% of respondents, though we will note at the CSCMP conference a logistics executive from Sears said that some old WMS systems they still had in place really limited the efulfillment flexibility the retailer has in many cases.
Any Feedback on our Supply Chain Graphic of the Week? Let us know your thoughts at the Feedback section below.