Supply Chain simulation has been around a long time, but in general remains not at all well understood.
Simulation is a close cousin of the more well-known supply chain network optimization, which historically has helped companies make decisions about where to locate factories and DCs, but today is used in many other areas, from deciding which products should be made in what plants to the best way to flow import goods into facilities and more.
We covered the interesting topic of supply chain simulation in a recent Videocast on our Supply Chain Television Channel, focusing on the ability of simulation to provide a sort of "ESP" for the supply chain by helping companies better understand what is likely to happen in their supply chains for a given set of conditions.
Toby Brzoznowski, executive voce president at LLamasoft, a provider of both optimization and simulation technologies, summed up the difference between the two this way: Optimization, he said, is prescriptive. Given a range of alternatives, optimization will tell you what the best answer is across some set of objectives, usually lowest cost.
Simulation, on the other hand, is more predictive - laying out in great detail how a supply chain is likely to perform given its design, policies, and customer demand.
But there's more. LLamasoft wanted a better framework for explaining how simulation techniques can be used. The result is the matrix shown below, with two dimensions: (1) demand - is it current, or future/unknown demand?; and (2) the network itself - is it looking at the current network, or some potential future supply chain network design? ("ESP," by the way, stands for Enterprise Simulation Planning.)
The Four Main Use Cases for Supply Chain Simulation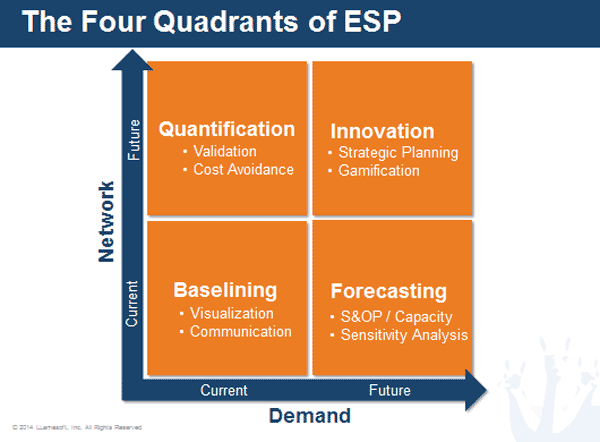 Source: LLamasoft
This then results in four quadrants or use cases: current demand and current network, current demand and a future network, etc.
The current network and current demand scenario is used to get a baseline model that can be shown to correctly explain current results, which then becomes the foundation upon which the other three use cases can then be created.
But Brzoznowski says even the baselining effort often provides insights into supply chain problems and opportunities that were not visible to managers before the simulation run.
All this and more is explained in the on-demand version of the Videocast, which includes a case study on each of the four uses cases. It can be found here: Achieving Supply Chain "ESP" with Advanced Simulation Techniques
It is a good one.
Any Feedback on our Supply Chain Graphic of the Week? Let us know your thoughts at the Feedback section below.