Is it really possible to have just one forecast in your company? Food maker and distributor Sigma Alimentos thinks so.
As detailed on a Videocast this week on our Supply Chain Television Channel, Sigma - headquartered in Mexico with operations in 23 countries, including the US - has radically rethought its approach to its supply chain.
According to Aldo Santarelli, head of logistics at Sigma who first developed the vision for a new supply chain paradigm, the company operated like most others until just recently, with a number of forecasts involved in making supply chain plans, from end sales to distribution requirements to plant activity, as shown in the graphic below.
Previous Approach to Supply Chain Planning at Sigma Alimentos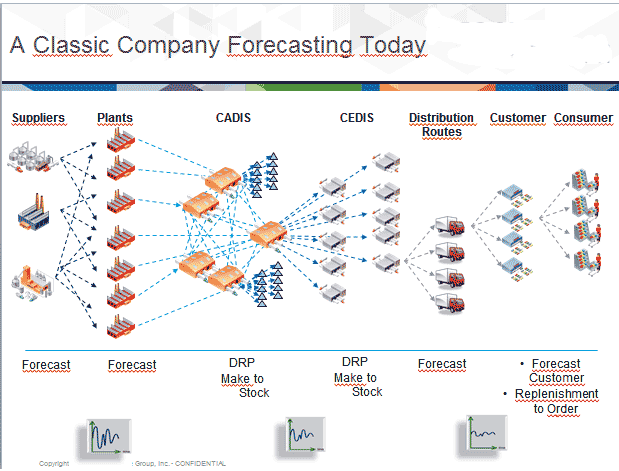 Source: Aldo Santarelli, Sigma Alimentos
But Santarelli had a vision for a more demand-driven supply chain, and said on the Videocast that this vision intersected almost be chance with the new Flowcasting solution from JDA Software. The Flowcasting concept was developed by Andre Martin, the inventor decades ago of Distribution Requirements Planning, or DRP.
Greaty simplified, DRP in general ended with a forecast and a replenishment plan for a retailer's DC. Flowcasting takes that to the next level, moving the DRP concept down all the way to the individual retail store.
Martin has long promoted the notion that "you should never forecast what you can calculate," an idea that Santarelli has run with, as shown in the second graphic below.
Supply Chain Plans at Sigma Alimentos Will Now Be Calculated from One Store-Level Forecast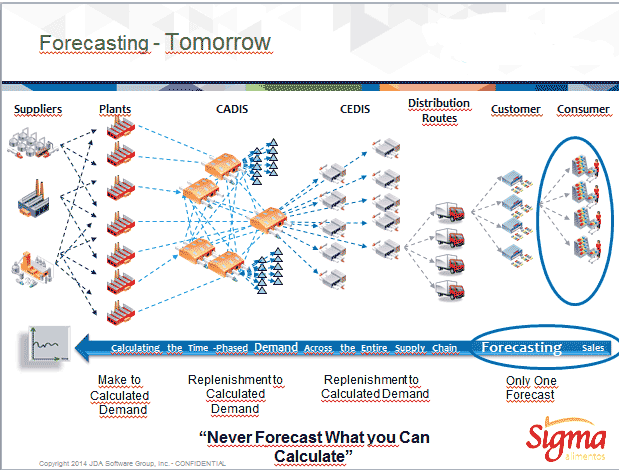 Now, Santarelli said, Sigma's supply chain will be directly connected to the consumer and the store shelf,
which is already leading to a number of operational and financial benefits in an extensive pilot.
To view the on-demand version of the Videocast, go here: Flowcasting Vision and Success at Sigma Alimentos
Any Feedback on our Supply Chain Graphic of the Week? Let us know your thoughts at the Feedback section below.