Boston Consulting Group (BCG) recently released another in a series of on-going reports on US and global manufacturing costs, this time looking at the relative competitiveness of the world's top 25 exporting countries, which account for more than 90% of all exports.
BCG created an index to measure a countries relative cost competitiveness based on what is says are the four direct drivers of manufacturing costs: wages, productivity growth, energy costs, and exchange rates.
It then sets the US with a score of 100 to serve as the baseline, and all other countries are measured again that. So, China's score of 96 means it is 4% less costly to produce on average (before other supply chain costs and risks) than the US, while say the United Kingdom, with a score of 109, is 9% more expensivie.
US competitiveness overall is rising. In this ranking, just 7 countries have scores lower than 100, while the remaining 17 countries have higher index values than does the US. (See Global Manufacturing Cost Competitiveness by Country Continues to Change, New Boston Consulting Group Study Finds.)
Perhaps just as important as the absolute scores are the trends. The chart below shows the change in relative scores for the 25 countries in the study over the past 10 years.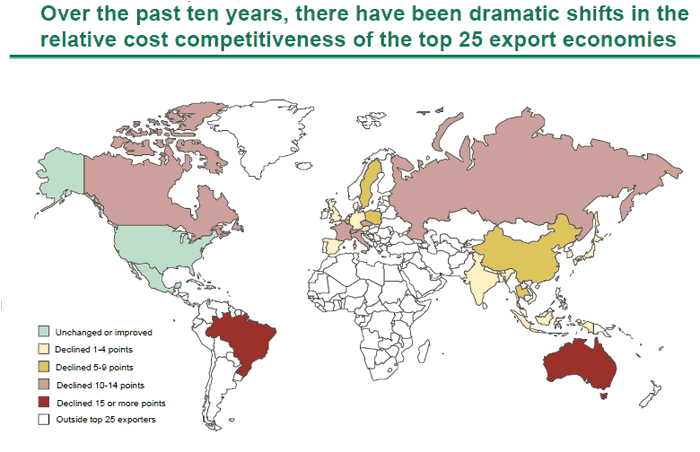 Source: Boston Consulting Group
As can be seen, just the US in Mexico have seen their competitveness scores stay the same or improve over the past decade. The rest of the countries have seen their scores slip, relative to the US constant index score of 100.
The report categorizes five countries as being under the most manufacturing cost pressure: China, Russia, Brazil, Poland and the Czech Republic.

Any Feedback on our Supply Chain Graphic of the Week? Let us know your thoughts at the Feedback section below.