Is US truckload capacity really starting to tighten?
According to the transportation sector analysts at Wall Street firm Wolfe Research, the answer is yes.
The chart below shows a comparison of two recent surveys of shippers the firm conducted, one in January, one just in March, based on a 1 (extremely loose capacity) to 10 (extremely tight capacity) scale.
As can be seen, the percentage of shippers who see capacity as very tight, which Wolfe defines as those who responded with a level between 7.5 to 10, jumped from 40.8% in January to 61.2% last month.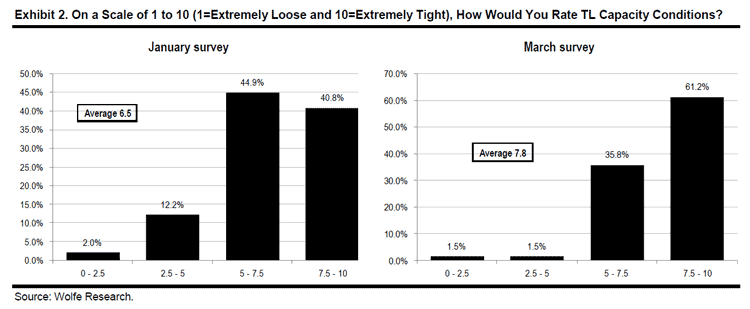 Similarly, the percent who saw things as modestly loose (2.5 - 5%) fell from 12.2% in January to just 1.5% in March.
Wolfe Research identifies a number of factors in the market change, including some growth in the economy, recent issues with rail service performance, a continued driver shortage, and some impact from the new Hours of Service rules that went into effect last July.
Given all that, Wolfe expects truckload rates to rie a significant 3.5% in both 2014 and 2015 on average.

Any Feedback on our Supply Chain Graphic of the Week? Let us know your thoughts at the Feedback Button below.