Earlier this week, SCDigest started a two-part review of the new book Procurement 20/20, by a quartet of consultants from McKinsey. (See New Book from McKinsey Says the Opportunities from Procurement Excellence are Huge.)
As the title of our review makes clear, the authors believe that the rewards from achieving procurement excellence are huge, saying leaders generate 30% more savings from procurement than do the average company.
That savings is becoming more and more material (no pun intended) as the percent of total company spend that goes through external providers continues to rise, now averaging about 85%, up from 60% in 1970.
As part of achieving that excellence, the book identifies what is calls 10 keys levers that company can use to reduce supply chain risk and improve procurement perfornance, as shown in the figure below from the book.
10 Key Procurement Levers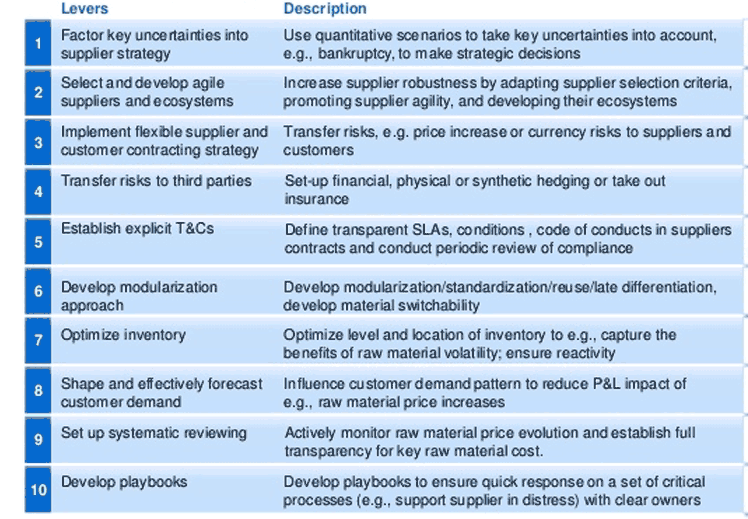 Source: Procurement 20/20
These are all pretty good, we think, and worth keeping on hand as a guide. Especially interesting to us are number 4 (finding a way to transfer risk to third parties) and number 6 (procurement playing a strong role in supply chain flexibility and postpone strategies).
Which ones intrigue you? Let us know below, and why, or what other ones you might add.
Any Feedback on our Supply Chain Graphic of the Week? Let us know your thoughts at the Feedback section below.