Do you believe the changes in globalization and the rise of merging markets have made a big impact on business and the supply chain already?
Well, you ain't seen nothing yet.
A new report from McKinsey says that in just a little over a decade, we will see a dramatic change in global business power, with a shift away from the developed world to the relatively undeveloped, not just in terms of growth (we know that) but in terms of corporate strength.
The chart below illustrates McKinsey's prediction that the number of companies in the global 500 headquartered in emerging market will rise from just 5% in 2000 to an astounding 46% in 2025.
While more than half will be in China, 109 of them or so will be from other developing economies.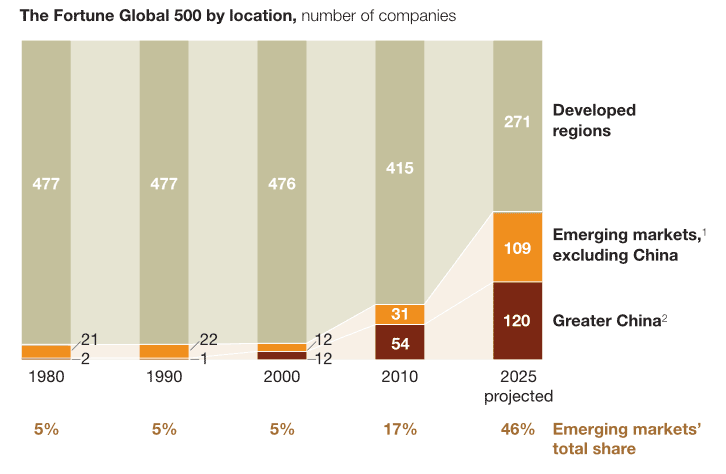 We have no idea how McKinsey made such a calculation, but even if it is mostly correct, the face of business will have dramatically changed - in part as these new giants grab a lot of the market share Western companies are currently planning to capture.
McKinsey also warns that a potential change of this magnitude should be a wake-up call to CEOs, as these new and fast growing players from the developed world could upset entire industries in the way the China has already done.
Among McKinesey's recommendations are to re-optimize sales networks to be more successful in emerging markets, pay close attention to these new competitors and manufacturing regions (such as the Sant Carina region of Brazil), and rethink overall headquarters strategy - some companies are creating two or three global centers of gravity.
Any Feedback on our Supply Chain Graphic of the Week? Let us know your thoughts at the Feedback section below.