Automated Case Picking (ACP) - a broad set of technologies target at automated some form of the traditional case picking process - continues to gain momentum.
That is especially so in Europe, where they have been many deployments, but also in the US now as well, where there have been a growing number of successful implementations.

The food and especially beverage industries have been the primary focus, but other segments, including retail, soft goods and more, are now pursuing ACP solutions.
SCDigest has just released its third survey of shippers to understand their level of interest in ACP, what they perceive the drivers and barriers to be, and more.

It is a very short survey that will take readers just a few minutes to complete: Automated Case Picking Study 2013.
This is will result in a larger report on ACP, expected to be released in mid-November.
In 2011, we asked survey respondents what they saw as the most important benefits they would hope to achieve from Automated Case Picking, as shown in the chart below.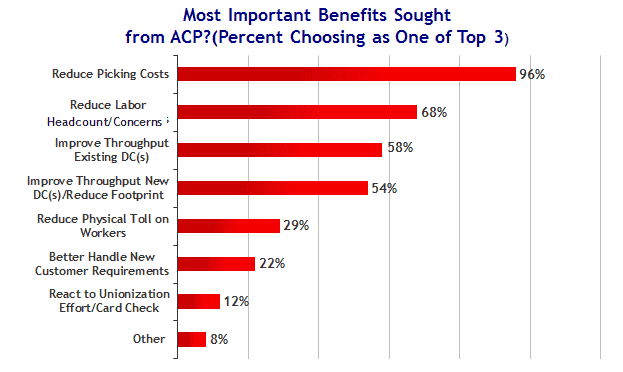 Not surprisingly of course, reducing case picking costs dominated the result, with a 96% score (we didn't calculate what the other 4% which did not have reducing picking costs in the top 3 were looking for).
There was a decent drop off to 68% for the number 2 choice of "reducing labor headcount and labor headaches."
That data implies, for example, that many companies would intend to move case pickers displaced by ACP to other jobs in the DC.
We think the 29% which chose "Reduce Physical Toll on Workers" as one of the top three is interesting. Aging DC workers is a real concern for many companoes. The lack of workers in its DCs that were retiring from the company is a key reason why paint maker Sherwin-Williams - with its very heavy cases - adopted an ACP system several years ago.

SCDigest would greatly appreciate your help in completing the very quick ACP survey for 2013.
Any Feedback on our Supply Chain Graphic of the Week? Let us know your thoughts at the Feedback section below.