As the old saying goes, often a picture is worth a thousand words.
In the case of supply chain and logistics, wouldn't it be nice to be constantly have a picture of your supply chain and its costs?
Those companies that continuously use supply chain network planning and design tools often do.
SCDigest just recently launched an excellent three-part video series on "Found Money" in the Supply, which looks at how a number of simple and focused supply chain network design projects can often drives fast, easy and unexpected supply chain savings -like the US retailer than found $20 million in annual savings from using product flow-path optimization to re-assign which SKUs came in though which ports - and drove savings of $20 million annually from this simple change. (See ''Found Money'' in Your Supply Chain Part 1.)
As part of the supporting materials provided for the series by Toby Brzoznowski, an executive at network design software provider LLamasoft, was this interesting graphic below.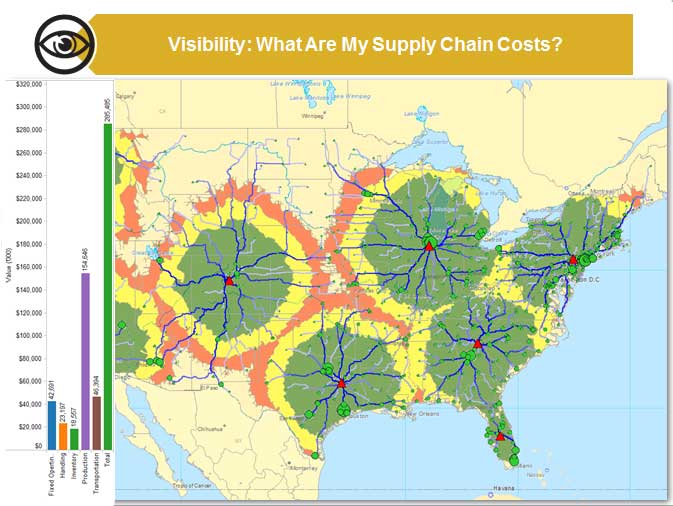 Source: LLamasoft
It is a simple but powerful map of a real company's supply chain. It shows where the company's major distribution points are, where key customers are located, and the days of service to different areas (green = 1 day, yellow = 2, and red = 3).
On the bottom left are depicted the various cost components of the company's supply chain (fixed costs, transportation, inventory, etc).
There you have it - the whole supply chain in a graphic even the CEO can understand.
The problem is too many companies do not have such a picture, or create one every three to five year as part of a one-time network study. Wouldn't it be nice to have such an illustraton updated annually, or even quarterly, with a comparison to the previous period to highlight changes?
We say Yes, which is why we generally believe that using supply chain network design tools is a good idea for many companies.
Of course, companies can drill down into many other areas of potential interest. But often a simple picture is a good place to start.
Any Feedback on our Supply Chain Graphic of the Week? Let us know your thoughts at the Feedback section below.