This year's State of Logistics report from CSCMP included an interesting chart showing logistics costs as a percent of GDP across a number of major countries and regions.
Report author Roselyn Wilson cited the source of this data as Boston Logistics Group. We are having trouble finding a Boston Logistics Group, and wonder if Wilson did not mean Boston Consulting Group, which often does this kind of research, but regardless here is the chart below.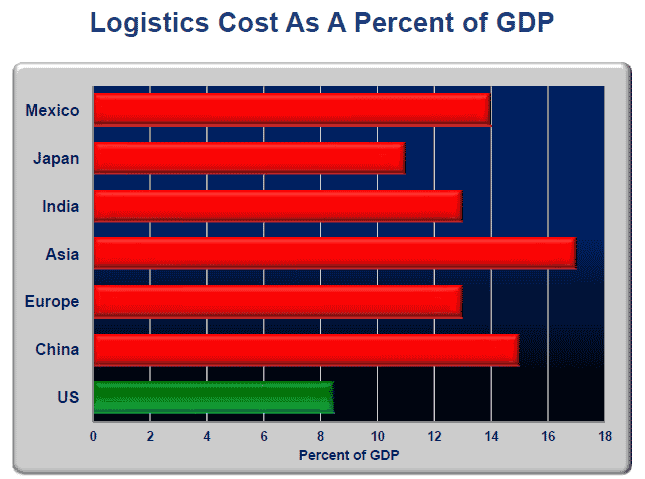 Source: 2013 State of Logistics Report from CSCMP
As the chart shows, the US has substantially lower logistics costs relative to GDP than most of the rest of the world, with closest rival Japan having logistics costs about two percentage points higher relative to GDP than the US has. (The exact time frame for this data is unclear, but it appears it is 2011 or 2012, and the numbers do not change much year to year, and would tend to move as a group if there was a major trend such as an oil price spike).
Of course, this is certainly related to the debate over US logistics infrastructure, which many say is in dire shape - yet, it seems to be enabling a logistics cost model that is very favorable indeed versus most of the rest of the world.
Any Feedback on our Supply Chain Graphic of the Week? Let us know your thoughts at the Feedback button below.