The trend for many years, it seems, is for companies to outsource more and more of their global transportation and logistics operations in the face of growing complexity and challenges.
But are some companies starting to reconsider some of those decisions and bring some global transportation processes back in-house?
"Absolutely yes," said Fab Brasca, VP of global logistics for JDA Software, during a recent videocast on our Supply Chain Television Channel.
Brasca said that in many cases, shippers are seeing opportunity to take more control and better leverage their global operations by pulling some processes back in-house.
He said there are three key questions companies must asked today to help guide the analysis and decision process, as shown in the graphic below:
Three Key Questions for Making Insource-Outsource Decisions for Global Logistics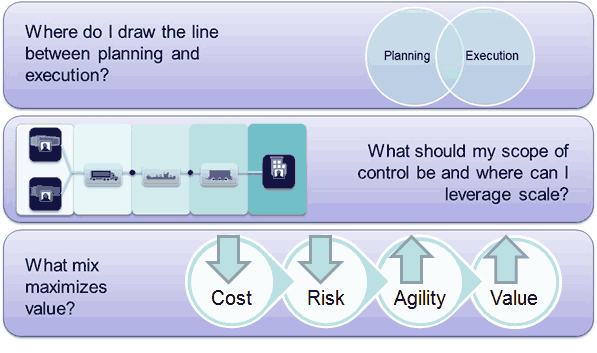 Source: Fab Brasca, JDA
(1) Where do you set the line between planning and execution? That isn't as clear cut as some might think. Planning functions are more likely to be brought/kept in-house than execution.
(2) What should my scope of control be and where can leverage scale? Companies should formally assess just how deep they want their control to be in global logistics, and recognize they might benefit from aggregating some functions internally.
(3) What mix maximizes value across multiple dimensions? It takes real work to figure this out, but can often lead to better results than a "let's outsource everything" approach.
SCDigest is going to look for case study examples of companies that have insourced some global logistics processes - if that's you, we'd love to hear from you.
Any Feedback on our Supply Chain Graphic of the Week? Let us know your thoughts at the Feedback button below.