Inventory Optimization software has clearly become very hot in the past couple of years. What is I/O software?
It's a newer type of inventory planning software that considers more than how to optimize at a given node or tier of the supply chain, as traditonal advanced planning software (APS) has done. Rather, I/O looks holistically across those tiers (often referred to as "echelons") simulatenously, considering upstream and downstream inventory needs and their impacts in determining an optimal safey stock recommendation.
Most companies rightly enough think of I/O as focused on reducing or more correctly "rightsizing" inventory levels - the latter term meaning the software will usually recommend increases in inventory levels for certain SKUs to reduce stockouts.
Another way to think about the potential benefits of I/O, however, is in terms of moving the traditonal supply chain trade-off curve.
That concept is nicely illustrated in the graphic below from Dr. David Simchi-Levi from MIT and OPSrules, during a recent Videocast on our Supply Chain Television Channel.


Moving the Curve with Inventory Optimization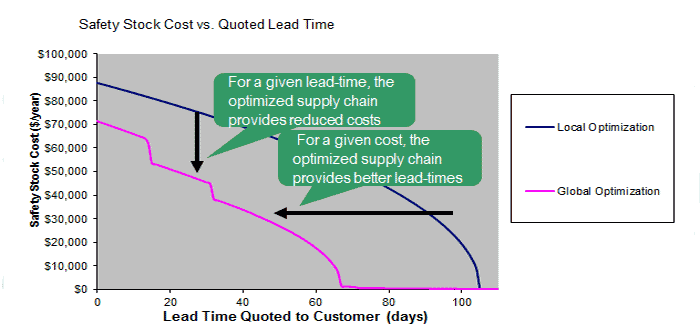 Source: David Simchi-Levi/OPSrules
The blue curve shows the traditional position of the trade-off curve between how much inventory a company holds and the lead time it has to customers. The more inventory held, naturally enough the lower the lead times - but that comes a the cost of greater inventory levels.
Inventory Optimization tools offer the promise of shifting that original curve to a new, lower position. That means companies can either maintain current lead times at lower invnetory levels, or keep curent inventory levels and provide improved service, or some combination of the two.
On the broadcast, Simchi-Levi and Lazso Molnar of Pepsi Worldwide Flavors discussed how this approach was able to signficantly reduce Pepsi's overall inventory levels. You can find an on-demand version of the Videocast here: Inventory Optimization Uncovers True Drivers of Inventory.
Any Feedback on our Supply Chain Graphic of the Week? Let us know your thoughts at the Feedback button below.