SCDigest has said for a long time that the best supply chains, regardless of operational metrics, are those that are most aligned with the business and the company's strategy. But we haven't taken it a lot further than that.
So, we were interested in a recent article in Strategy + Business, the publication of consulting firm Booz & Company, that provides one approach to getting more detailed on how to analyze that alignment.
Booz & Company's Strategy + Business magazine, Richard Kauffeld, Curt Mueller, and Adam Michaels start with the premise that there are different types of companies and strategies, with names it gives them such as "innovators," value players," "premium players" and more. Naturally enough, the supply chain capabilities and competencies needed for each type of market strategy and environment vary.
Booz then lists a dozen of these capabilities and competencies, ranging from "go to market" (responsiveness to demand) to "strategic sourcing" (self-explanatory). It then creates models for how important these different capabilities are for which strategy types. That makes a lot of sense, as obviously strategic sourcing is probably much more important for an industrial equipment manufacturer than it is for a grocery store chain.
Logically, a given company can then assess where its capabilities are versus the model for its given strategy type. One such exercise, for a real but anonymous "value player," is shown below, using a traditional spider diagram.
Assessing Supply Chain Capabilities Versus Strategy Requirements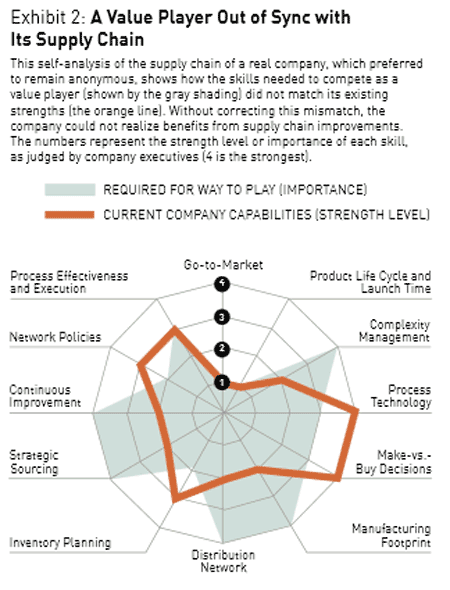 Source: Booz & Co.
As can be seen, this specific company's capabilities, as shown in the orange, do not match especially well with the model capabilities shown in the gray.
The only thing we would add is that a company often has multiple strategy and market models, and so, using supply chain segmentation techniques, this exercise might need to be completed multiple times, with some challenges in building all those capabilities across segments, it would seem to us.
Any Feedback on our Supply Chain Graphic of the Week? Let us know your thoughts at the Feedback button below.