SCDigest has reported off and on over the years relative to the continued transformation at JB Hunt, away from the traditional truckload carriage upon which the legendary JB Hunt founded the company on, and towards intermdodal and "dedicated" services.
JB Hunt's Q4 earnings report triggered us to see how this has unfolded over the past 10 years. Below is a graphic of Hunt's revenue by major business segment from 2002 versus 2012.
As can be seen, over that time, straight truckload carriage has shrunk from 36% of the business to just 10% in 2012. Meanwhile, intermodal revenue has grown from 36% of the total to 60%. (Note: the "integrated capacity solutions" segment, a 3PL transportation management type service, appears not to have really existed in 2002.)
In absolute numbers, straight truckload revenue has decreased from $827 million in 2002 to just $488 million last year. Meanwhile, intermodal has grown from $809 million to more than $3 billion in 2012. Dedicated has also grown, but at a slower pace, rising from $628 million in 2002 to just over $1 billion last year.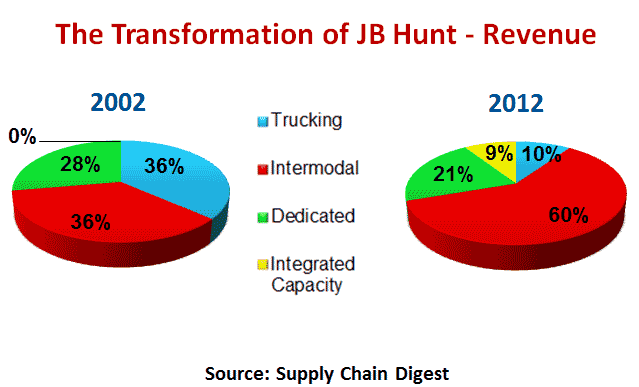 Frankly, we thought JB Hunt was just getting into intermodal in 2002, but obviously the strategy was already well in place by then.
The transformation is even more dramatic when in comes to profits. The chart below shows the share of operating income for Hunt by business unit.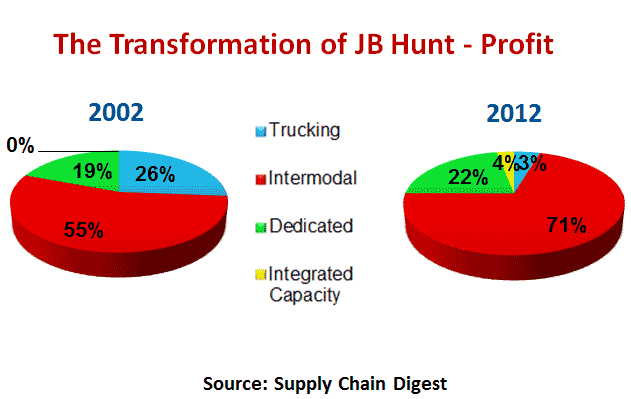 Here, the straight truckload business has seen its share of profits at Hunt fall from 26% in 2002 to just 3% in 2012, while intermodal now dominates the business, producting 71% of profits. Wow.
Is regular truckload carriage from one of the industry's greatest TL carriers going away at some point? Not clear, but we will note Hunt downloaded its TL fleet size by almost 20% in Q4. Their may be a core that will remain strategic for Hunt, but that seems to be about it.
Whatever you think of that, it seems to be smart business strategy - JB Hunt saw profits rise another 20.8% in 2012, on a revenue gain of 11.7%. Other truckload carriers, notably Werner and Swift, seem to be getting the message based on their recent results that show much faster growth in these other types of services.
Any Feedback on our Supply Chain Graphic of the Week? Let us know your thoughts at the Feedback button below.