We don't often gush, but the just released BP Energy Outlook 2030 is simply an outstanding, objective and provocative look at where the world is headed in terms of energy production and consumption over the next 20 years.
It is a companion piece of sorts to BP's annual Statistical Review of World Energy, publicly available for just shy of 60 years now, but before the just released 2011 report the BP Outlook was only for its own internal consumption.
The breadth and depth of the new report are impressive, and we reviewed some of the key findings earlier this week on are thegreensuppychain.com web site. (See Fascinating Look at our Global Energy Future in New Report from BP.)
Here, we publish just one of the numerous charts in the report, which looks at the changes in the sources of energy consumed on a global basis over the next two decades.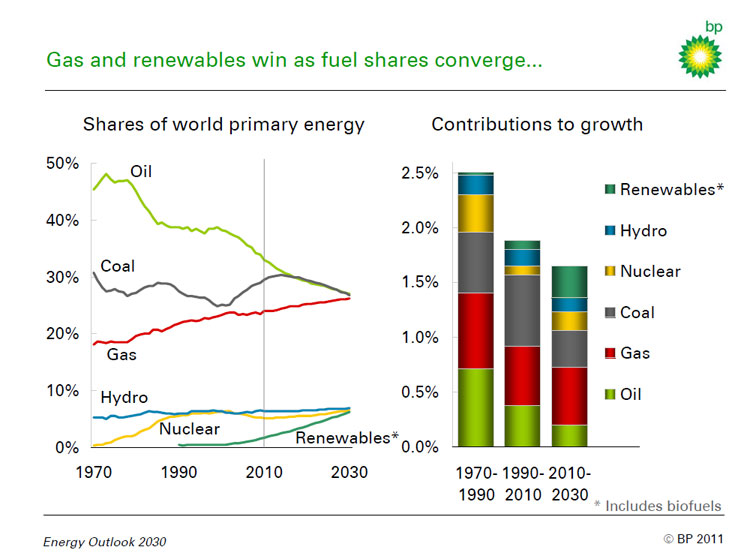 Source: BP
As can be seen, BP projects that oil, natural gas, and coal will converge in terms of their share of global energy consumption, at roughly 27% each, by 2030. In relative terms, that means a decline in the share of oil and coal and a strong increase in the share of natural gas. BP also projects a strong relative increase in the share of energy coming from "renewable" resources.
That said, the absolute levels of oil and coal consumption will continue to increase, as the growing demands of developing economies require substantial use of both these non-renewable and relatively C02-intensive sources.
We have lots more details, and a link to the full report, at the article link above. It is outstanding data.
Agree or disagree? What is your perspective? Let us know your thoughts at the Feedback button below.