How accurate are Advanced Ship Notices (ASNs) sent from consumer goods manufacturers to retailers?
It turns out answering that question is not easy for a number of reasons, including issues over how to define ASN accuracy and differences in various retail segments in terms of handling units and ASN practices.
There has also been very little research on this topic to date, it seems to us.
That situation has changed a bit of late, as Dr. Brian Gibson of Auburn University has recently done quite a bit of research on this subect. Gibson presented much of that research on a recent Videocast on the Supply Chain Television Channel, including a detailed analysis of more than four years worth of data from six actual retailers.
The retailers involved were primarily from the soft goods retail sector, which has long been the most aggressive in terms of ASN requirements, for a variety of reasons. The raw transactional data was made available by Compliance Networks, a provider of compliance optimizaton and supply chian visibility solutions, with approval of the specific retailers whose data was analyzed.
The graphic below shows both the trends in ASN accuracy from the retailers as a group over time, as well as recent ASN accuracy levels by type of retail order.
ASN Accuracy Results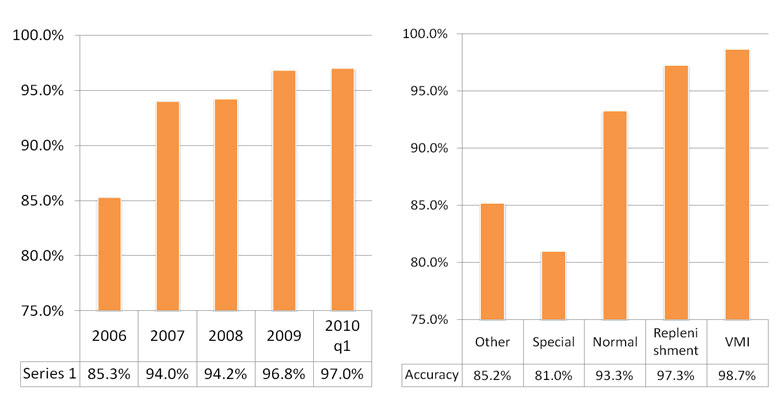 Source: Dr. Brian Gibson, Auburn University, from Compliance Networks Data
The rise in ASN accuracy from 2006 to 2010 from the group is impressive, moving from about 85% in 2006 to 97% in Q1 2010. Gibson says this is a result of general process improvement by both manufacturers and retailers over the period, as well as the retailers leveraging the data thrown off by their compliance information systems to measure and track accuracy progress.
More surprising may be the fact that "replenishment" orders actually showed higher rates of ASN accuracy than "normal" orders. This is surprising because normal orders are more often full cases, while replenishment orders usually involve "piece pick" operations where the chances for picking errors would seem higher.
One possible factor, according to Gibson and Gough Grubbs, Sr. VP of Logitics and Distribution for retailer Stage Stores, who was also on the broadcast panel, is offshoring, Too often, even full SKU carton packed in some offshore suppliers contain quantity and SKU errors.
To see the full broadcast on ASN accuracy, go to: ASNs in the Retail Supply Chain - The Path Forward.
Agree or disagree? What is your perspective? Let us know your thoughts at the Feedback button below.