The market characteristics of a product line should drive the appropriate supply chain strategies for those products.
That basic truth may be modestly well-understood by many supply chain professionals, but how to put that principle into action isoften far from clear.
Dr. David Simchi-Levi of MIT removes much of the fog surrounding this issue in his new book Operations Rules: Delivering Customer Value Through Flexible Operations.
Simchi-Levi is summarizing the book in a series of Videocasts on the Supply Chain Television Channel. Part 1 of the series is now available on-demand: On-Demand Videocast - Operations Rules Part 1 - Matching Products, Markets, and Supply Chain Strategies.
During the Videocast, Simchi-Levi introduces a framework for matching product attributes with SCM strategies, using a four-quadrant model, as shown below.
The fundamental question, Simchi-Levi says, is whether to use a push, pull, or hybrid push-pull model. That in turn, as the framework suggests, is dependent on two variables: (1) the degree of demand uncertainty, and (2) how great the potential economies of scale are.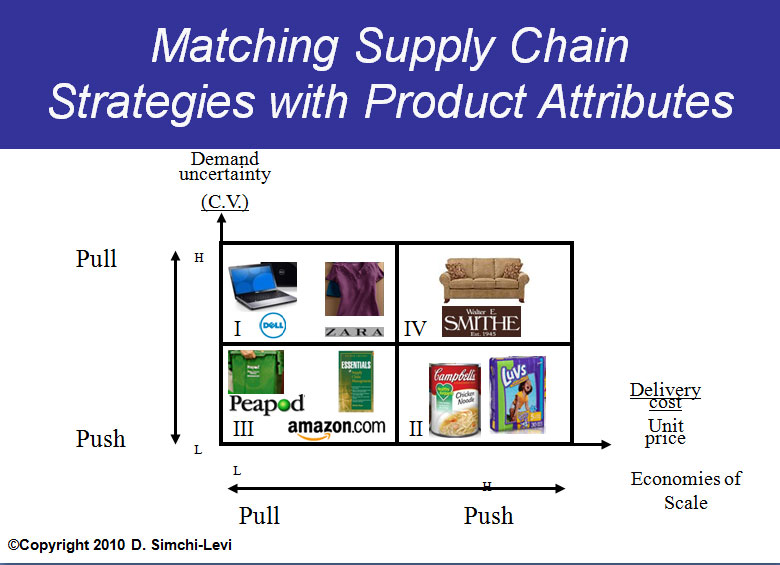 Source: Dr. David Simchi-Levi, Operations Rules
The toughest quadrant, Simchi-Levi says, is number IV, in which demand uncertainty is high, but there are also strong opportunities for economies of scale.
He cites many areas of the furniture industry as examples of this quadrant, where the options for styles, fabrics, etc., can run into the thousands, makng forecasting at the SKU level almost impossible. Many companies in the sector manage this in part by using a make-to-order, pull-based supply chain strategy, but then pooling transportation across individual orders shipped to different regions to reduce logistics costs.

The book and full Videocast hav emuch more detail on this model.
Agree or disagree? What is your perspective? Let us know your thoughts at the Feedback button below.